With breakout rooms, moderators will have privilege functionalities and a different invite URL to join the room only during the event dates given in the admin panel.
First things first, you can access the BORs from the admin panel. If you don't have access to the admin panel, please contact the event organizers directly to get the Host URL.
When you create the first BOR, you will find out that you have special rights to interact with participants and control the session settings. You can test this room a few days before the event starts as the BORs are only active during the event dates given in the Event details.
A fantastic feature is to record breakout room sessions with a few steps, and it's essential to know how to save your recordings from the browser. Last but not least, we wanted to give you a head-up on the limitations these features have. Let's dive into what you can expect as a room host:
❗Attention event organizer - If a host enters the room through the host room URL, you will only have host room privileges between the specified start and end date when creating the BOR. This is something to bear in mind when providing room links ahead of scheduled meetings.
Host privileges
Any person who will enter the room through Brella's Host URL will have privileges that will enable them to have complete control of the room during the event.
We recommend having a host that belongs to the event organizer team and a session/room co-host to help during the session.
🔍 Additionally, it's encouraged to have a maximum of 3 moderators (1 primary moderator and 2 supporters).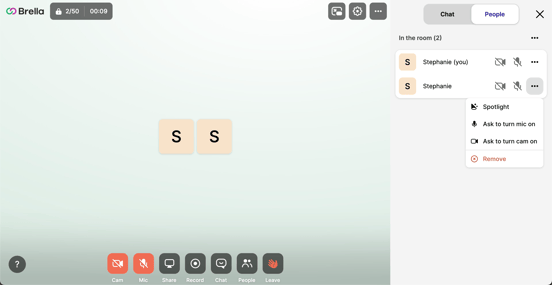 As a host, you can:
👉control participant traffic and engage with participants, by
muting and asking participants to turn their cam/mic on/off,
removing participants,
locking the room, and letting people in,
asking participants to share their screen,
giving the spotlight to any participant, and
moderating the chat. (except deleting participants comments)
👉Have complete control of the meeting settings such as
Test breakout rooms
You can test the breakout room a few days before the event starts. Breakout rooms (BOR) can be scheduled for any day and any time during the event start date - event end date (+ 24 hrs).
Having said this, to test the BORs, ensure to extend the duration of your event a few days earlier from the first official event day, then create a new BOR and invite your moderators and pretend attendees so you get a first-hand try of how the BOR works.
After testing, you can change the event dates back to the original without any issue. 🔑
Watch this video👇where we walk you through the breakout rooms at Brella. We show you the host privileges in detail and also how attendees will interact with this feature.
If you need help with this, let us know and contact us here.
🔍 The host privileges for any breakout room only work during the Event start date - Event end date (+ 24 hrs).
Breakout room limitations
It's encouraged to have a maximum of 3 moderators. (1 primary and 2 supporters).
The breakout room capacity allows up to 50 participants in one room, and only 12 can have video and audio on. This number includes the moderator.
The way participants enable their cam/mics on and off works in a first-come-first-served method. If in a session, there are already 12 participants with video and audio on, but a moderator wants to give a participant the option to turn their cam/mic, the moderator will need to ask a participant with the enabled cam/mic to turn theirs to allow the other participant to talk/be seen by the rest of the audience.
When recording a session, the recording will be saved in your browser. To get the recording, you'll need to download it and then convert it to the needed format.
You can currently moderate the chat by following up on comments but cannot delete messages from participants.
No attendee list export available yet.
No live streaming is possible but you can share pre-recorded videos, share your screen as a host, share a youtube video, share a whiteboard (Miro). Details in this article.
No breakout analytics is available yet.
---
Last updated on February 2021.
Written by Stephanie Campano Valenzuela.

If you didn't find an answer to your questions, please contact the Support Team here.

👇