📖 Attendees & Groups | Stage 3
Attendees & Groups: Attendees skip profile setup
Learn what happens when attendees click- I'll do this later- instead of setting up their event profile.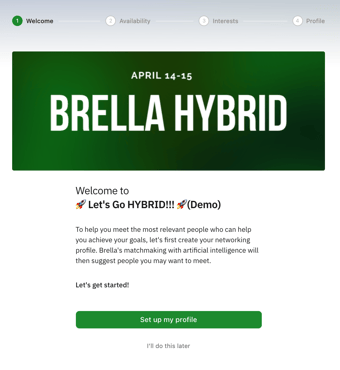 When joining an event in Brella, all participants will be asked if they'd like to Set up their profile, OR do it later.
When participants click -I'll do this later- they will have access to the event's schedule, sponsor's virtual booths, speaker's biographies, and other content available. However, they will have some functionality limitations:
Not being able to network with sponsors, speakers, nor attendees.
Creating a profile for the event.
Having access to the list of attendees.


⭐ Tip: Motivate participants to set up their profile as soon as they register in Brella by sending them an email and explaining that creating a profile for the event will help them make meaningful connections at your event. For more insights, go here.
---
Last updated - July 2022.
Written by Natasha Santiago.

If you didn't find an answer to your questions, please get in touch with the Support Team here.
👇