Learn how to add and showcase sponsor products in their virtual booths.
To be covered:
Intro
This feature allows the sponsors to easily showcase their products and services on the virtual booth on Brella. The ability to add products will enable sponsors to prominently display their top product listings and drive direct sales traffic to their e-commerce funnels (including those external to an event).
How to add a new product
Navigate to manager.brella.io
Click on the event
Click on the sponsors tab on the left-hand side menu
Select the sponsor to whose virtual booth you want to add the product
In the window that opens - select products from the top menu
Click on add new - this will open a popup
Enter the title of the product (Character limit 50)
Enter the product description (Character limit 100)
Add the URL link for more details about the product
Click on the add image area to select a relevant product image and upload (Recommended ratio is 1:1. Jpeg, png formats are preferred)
Scroll down and click on the add button in the pop up
Congratulations! You have successfully added a product listing to your sponsor virtual booth. You can add as many products as you require to as many sponsors.
💡You can delete/edit any product added by selecting the respective option from the right-hand side of each product.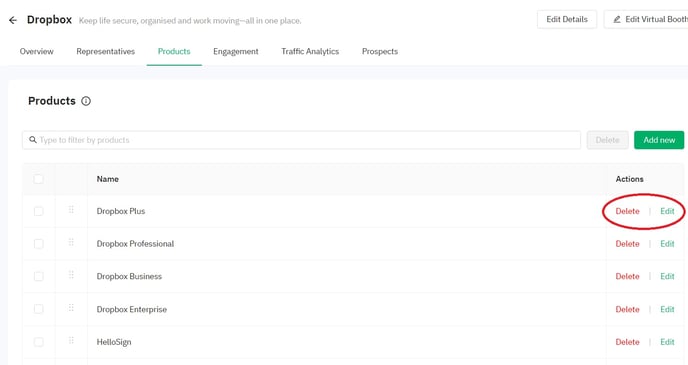 ---
Last updated - July 2023.
Written by Nisansala Wijeratne.

If you didn't find an answer to your questions, please get in touch with the Support Team here.
👇