Learn how to accept organization or event admin invites received
To be covered:
Intro
To edit your event on Brella you require admin access to the admin panel. Access can be granted to you by the Key Account Manager, Customer Success Manager, or the main point of contact who is communicating with Brella from your organization. You can be added as an organisational admin or an event admin depending on the role you play.
Accept an admin invite received
Once you have been added as an admin, check your inbox (including spam) for the invite
By clicking the 'Accept' link in the email you will be directed to manager.brella.io and requested to create an account.
💡If you already have a Brella account for the email admin access shared, you will only have to log in with the password.
Once logged in, you will be able to see 'Admin invites' on the left-hand side menu with the number of invites pending to be accepted
Click on that tab and you can see all the admin invites that have been sent to the particular email you have logged in with
The organizations/events will be added to your manager.brella.io account once you accept any pending invites.
❗You can only accept an admin invite with the same email address you have been invited with.
i.e. If you are invited as an organization admin to Org X using kavish+test1@brella.io > you can only accept/ claim the invite using a Brella account with the same email (kavish+test1@brella.io); trying to accept it with kavish+test2@brella.io will NOT work)
❗The invitation links are only valid for 2 weeks (14 days). If you do not accept the invite within 14 days, it will be shown as expired and you will need to re-request to be added as an admin to the event.
If added as an event admin to multiple events, you are also given the option to de-select any event you do not wish to have admin access to before accepting the event admin invitation. The de-selected event invite will be shown as pending until accepted.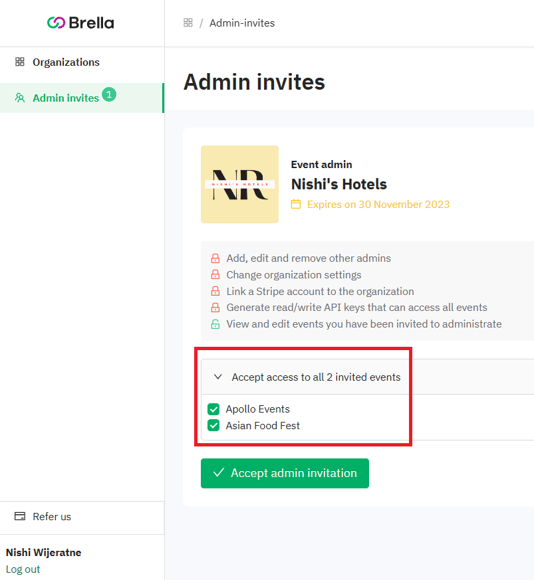 Please contact the main event organizer or your Brella Customer Success Manager if you require to be added as an organization or an event admin.
---
Last updated - November 2023.
Written by Nisansala Wijeratne.

If you didn't find an answer to your questions, please contact the Support Team here.

👇