Learn how to use the filter option and edit content/meeting slots in the schedule tab from the admin panel.
To be covered
Intro
This article explains how you can edit any networking or content slot on the admin panel after you have created and saved them. We would highly recommend that you do any changes before launching the event to the event attendees and not after as the edits will have a direct impact on their profiles and networking.
Use of filters
With the introduction of the filters button, you can filter the content/networking slots added to your schedule for your preferences based on tracks, tags, location, slot type, session type, speakers, and session visibility.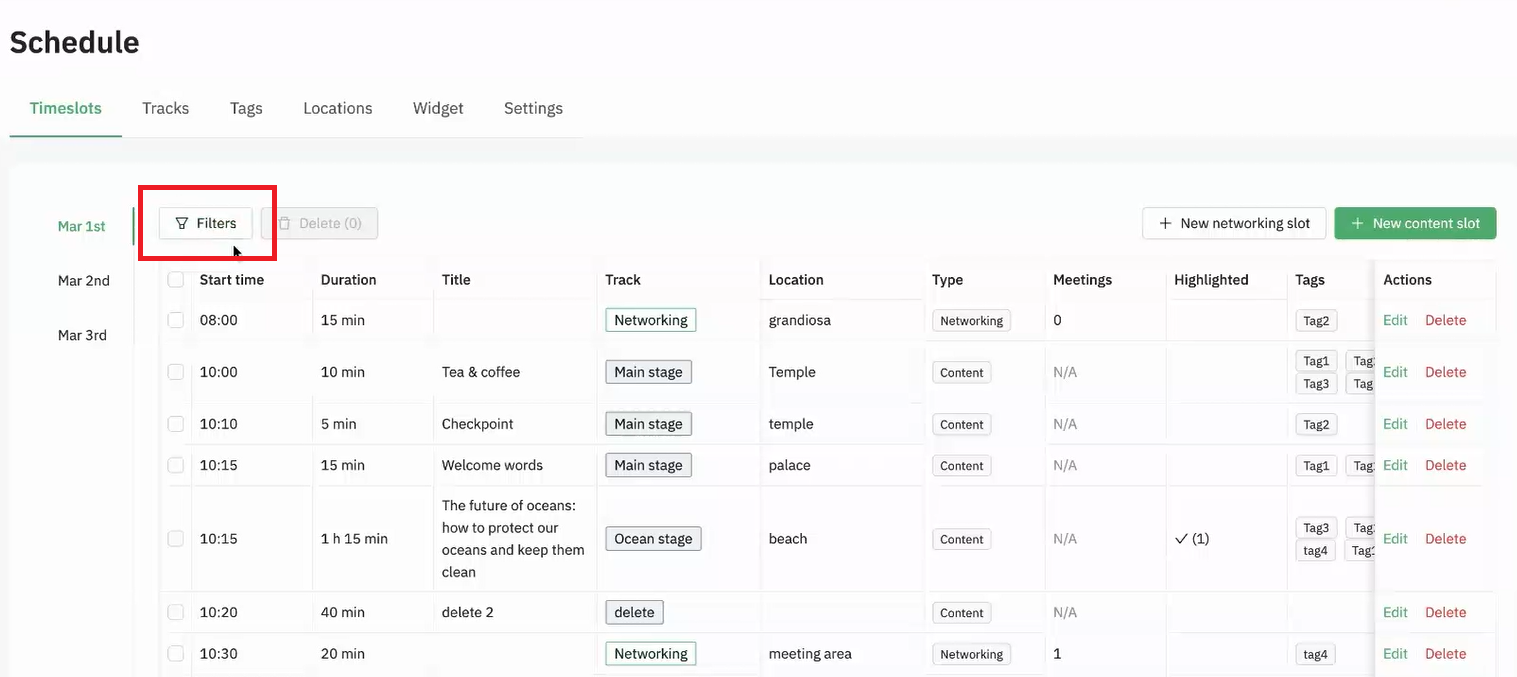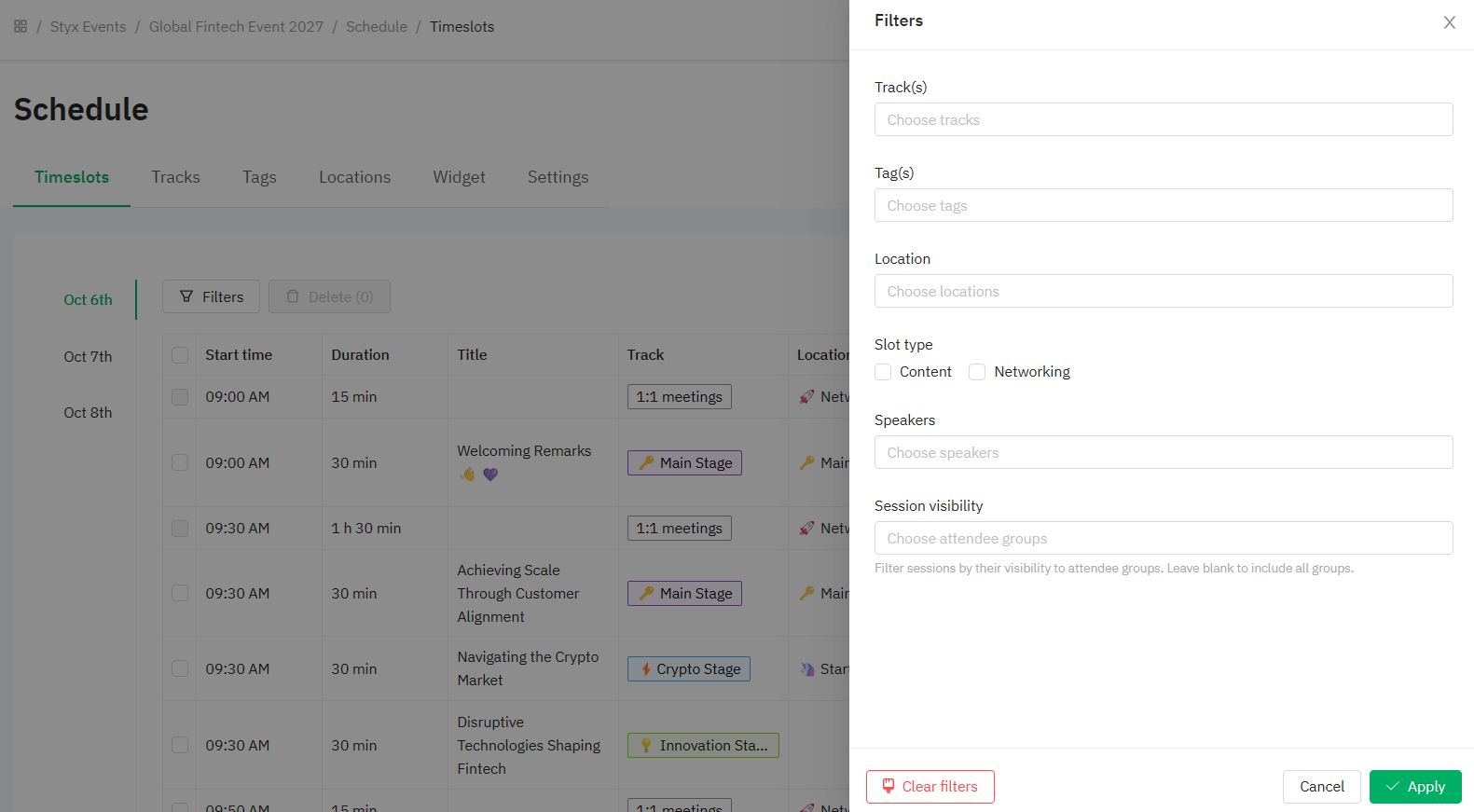 You can use filters to narrow down the fields you want to see and proceed with any edits if required. The below video explains how filters work.
✍️
After you have used a filter/filters, the filter button will highlight in red the number of selected filters. Make sure to click on the filter button again and clear the filters selected to view back the complete schedule.
The session type filter option opens only when the slot type 'Content' is selected.
How to edit networking or content slots
Navigate to

admin panel -> content -> schedule

Edit a current schedule by clicking 'Edit' on the right side of each content or networking slot.
You can also delete content or meeting sessions from the delete link under actions. (Refer to the note below)
Use the Filters

to select which slots you want to edit (Networking or Content).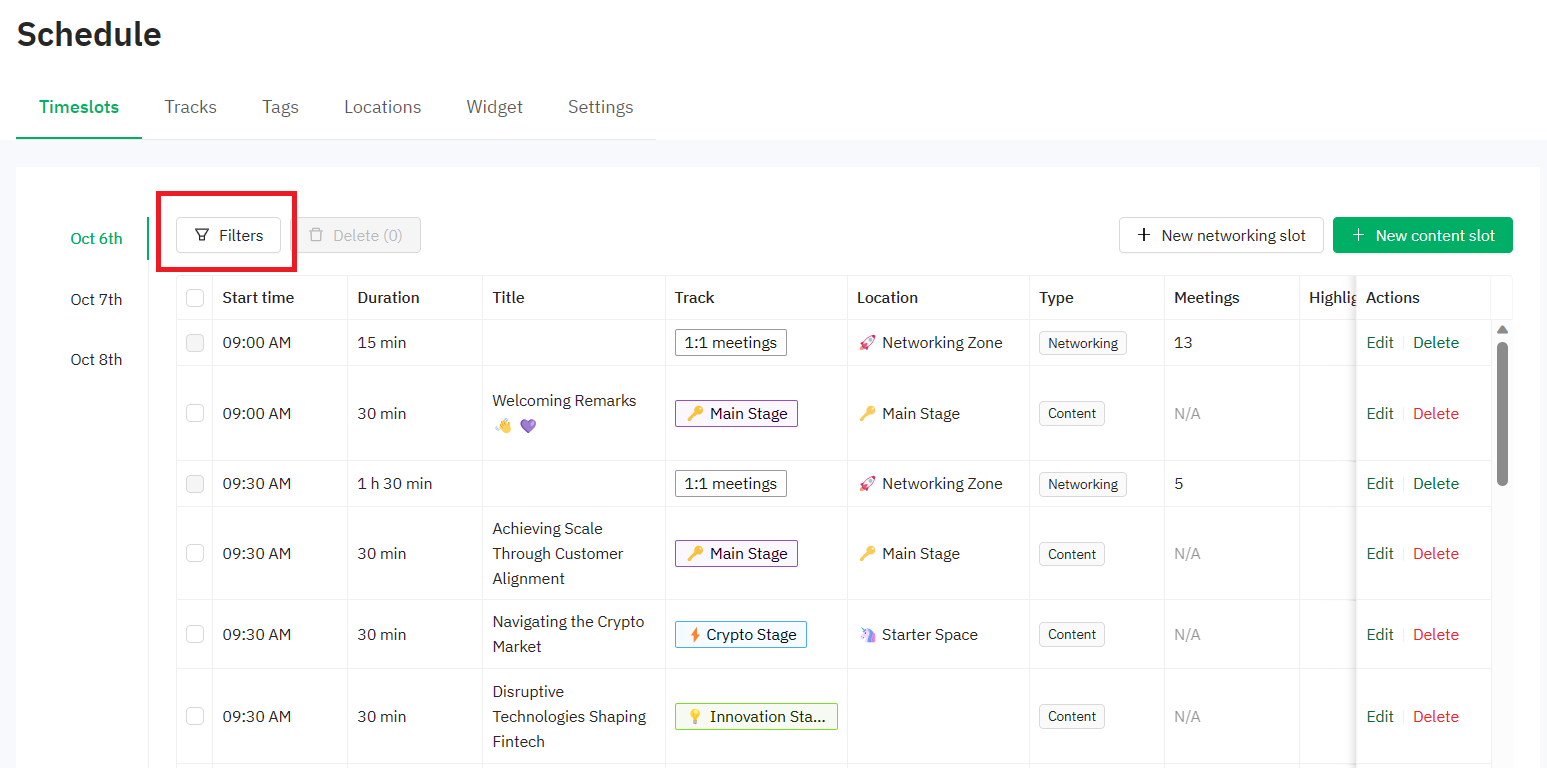 ⚡Points to note:
The number of meetings shown in the meetings column for each networking slot includes the total accepted meetings.
Please check that there are no accepted meetings booked on that slot before editing/deleting anything.
Deletion of a slot that has accepted meetings will directly affect your attendees, and you'll need to inform them that they must reschedule their meetings.
The system does not allow the deletion of a networking slot if there are more than 4 meetings scheduled. For example: If you have 5 meetings in a networking slot you will NOT be able to delete it.
Last updated - August 2023.
Written by Nisansala Wijeratne.

If you didn't find an answer to your questions, please get in touch with the Support Team here.
👇