You can add different tools to Brella to engage your attendees more, despite if your event is an in-person, a virtual, or a hybrid event.
In this article, we will cover these topics:
About Live Polling Software
While Brella does not currently offer a live polling feature, there are a number of software options that specialize in this method of audience engagement. Once you have decided on software, you have multiple ways you can place them to Brella.
While live polling and audience Q&A services are offered by a number of companies, due to its ease-of-use and time-tested performance, in the example below we will be using Slido.
In order to add any live polling to Brella, you must first create the poll in your live polling software. In Slido for example, this will generate an event code that your users will use to join the event and begin polling. (For more information on the creation process, please check out Slido's tutorial videos for managing live polls & audience Q&A.)
Adding live polling to your event
You can add polling and Q&A features in Brella in the sidebars in streams, schedule, and virtual booths as well as in custom pages which you can customize to your event.
How the polling tools will look in the sidebar (in this example on the Schedule):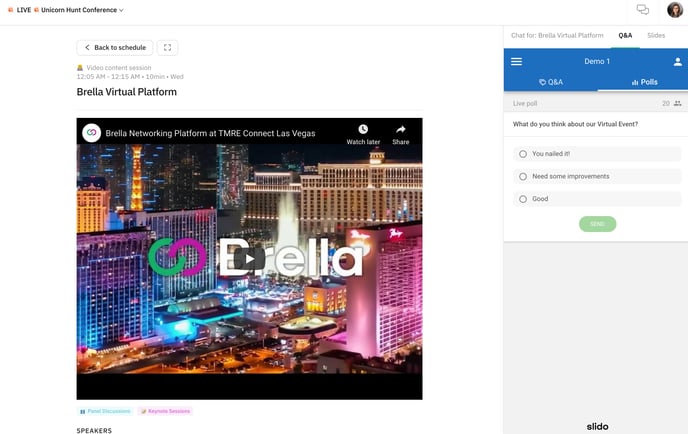 How the polling tools will look in the custom pages on Brella
You can also add polling tools to custom pages on Brella, where you can use hyperlinks to redirect the attendee to the poll directly.