Bookmark this article to learn about new features and useful resources that Brella is regularly launching throughout the year.
May 26th: View and export multiple events data at once
The more events you host, the more information you have and need to benchmark your business development and event experience.
🎯 In short:

May 10th: Breakout rooms got bigger!
As of today, a breakout room can host up to 100 participants in Brella. 🎉
This update only affects the capacity number which still includes 3 moderators and 12 video feeds per session.
Create a breakout room and learn the options you have as a host. We highly recommend testing it beforehand. Read more about breakout rooms.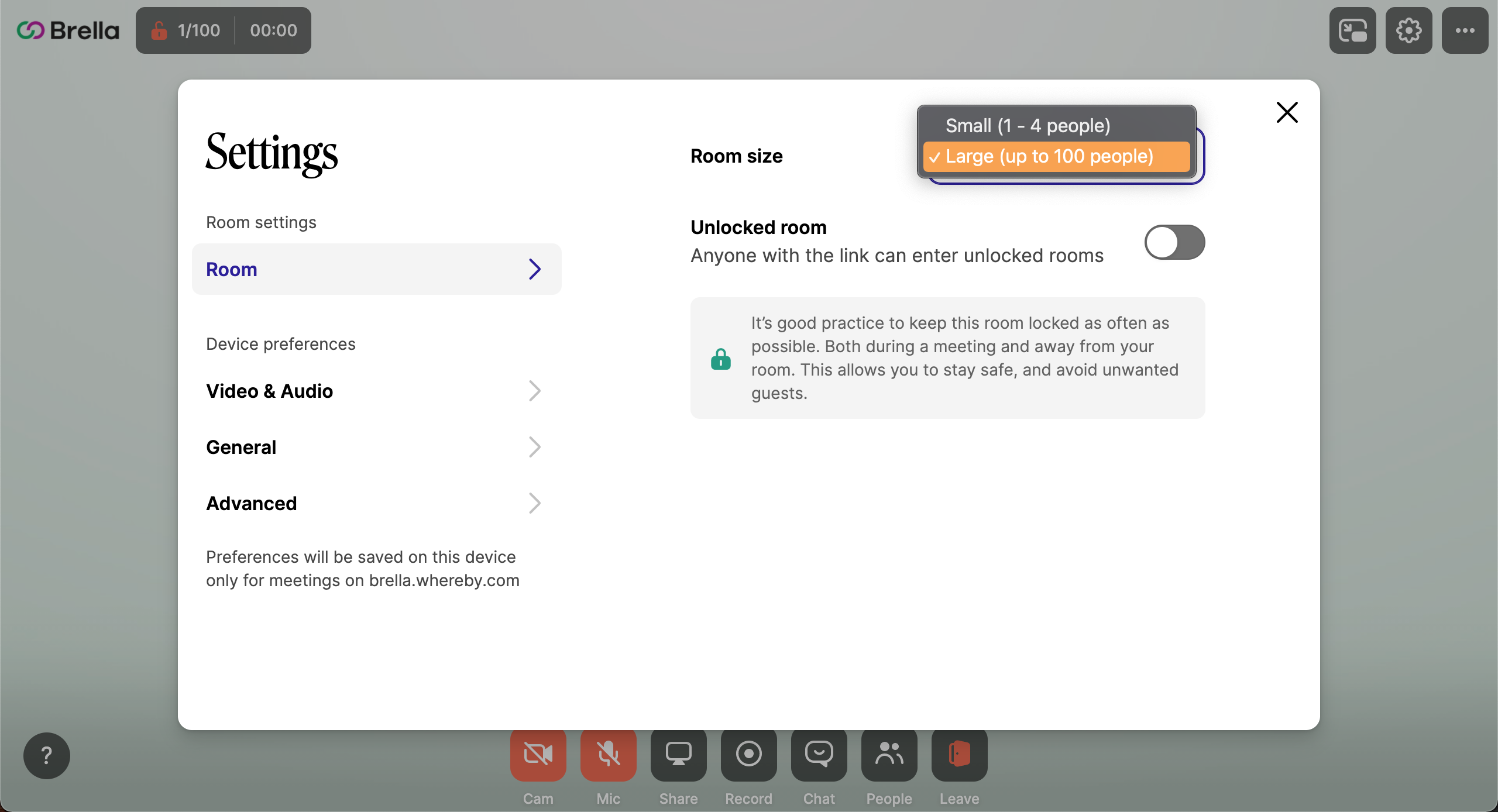 April 27th: Import Sponsors & booths with a few clicks
Creating sponsor profiles and booths got much faster and easier! 🚴‍♀️
You can now create sponsor profiles and booths in bulk with a csv file. Now, you can add 3 new columns (logo, carousel, and sidebar) that will correspond to the sponsor profile and others to the booth - see the specifics below.
For the sponsor profile: Name, Category, Subtitle, Category, Enable chat, Website - only URL - optional, Facebook, Twitter, Linkedin, Content (Description) and Logo following the steps in Importing Sponsors.
For the booth: Carousel and Sidebar, only public links are accepted.
Watch the video walkthrough below to learn how to create sponsors' booths in less than 4 minutes, and find the full instructions in this article.
April 14th: New traffic file for stream participant activity 📋
With this file, you can calculate at first glance what session was the most popular during your event. The average viewer is probably the closest measure of actual attendance at any given point. It is calculated by dividing the Total Watch Time by all watchers on the interval duration (15 minutes). So, if two people watch half of the interval, you get one avg viewer.
This file will only include official event dates and start tracking participants' activity as soon as the first attendee starts watching the streams on the first day of the event.
For examples and details on the file, please visit this article: Export Streams traffic report.
See the value of this file in this example: A Quick Glance to Your Stream Traffic Activity Data.
March 29th: Organizations is the new enhancement to the Admin Panel 💻
From now on, your events will belong to one organization, depending on how many events you have on your account. With this release, we have two types of admins; Event Admin and Organization Admin. The latter can add admins from the Admins page instead of the People's page. The Admin Panel also looks slightly different - have a look at it!👇
Learn more about this update on the articles below:
New traffic files for Streams, Sessions & Sponsor's booths
Your traffic data is now restructured in a way that allows you to import files straight to an analysis tool. From now on, every time you export the traffic analytics from your event, you will receive two files:
Stream name visitors.csv - includes all the total interactions per visitor.
Stream name interactions csv - includes all the visitors' interactions combined.
For details, go to:
Express Yourself with Instant Reactions 🙂 💜 💚
We recently released instant reactions 🤸 in the Chats. Now you can express yourself more naturally (with "reactions") in Brella! Your team and your audience can use emojis through the Chat in the Sessions, in the Stream tab, or the Sponsor booths, and lastly, on the Brella Meetings.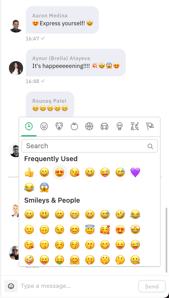 Search Your Favorite Session on the Widget
Your Event Agenda now has a search box in the Widget! No need to scroll down, no need to remember every detail of the session; as long as you remember the Speakers, or the beginning of the session title, you can find it!
Customize Your Event Color Theme in Brella
Because you asked for it! Now you can customize the platform to your own branding colors. Your brand can be portrayed in its own way inside Brella. Using the color theme, your brand colors will remain in your customer's minds event after the event ends! Learn more about customization in Brella.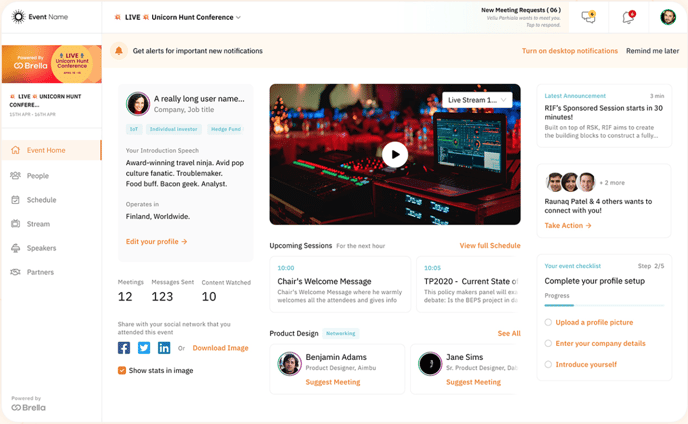 Importing Sponsors & Speakers profiles is now available!
Now- you have two options to create your stakeholders' profiles in Brella. Forget creating each profile one by one; now, you can add the Speakers and Sponsors list by importing a csv file within a few clicks! Later, you can update the content manually. For more details, visit these articles:
Brella Breakout Rooms
No third-party tools, no technical skills required! Virtual rooms for you, Organizers, Speakers, and Sponsors to connect with participants at any time during the event. These rooms allow you to host intimate conversations with up to 50 participants, including 3 hosts. You can use these rooms for Limited Workshops, Roundtables, Q&A for any limited session. Learn more about the Breakout Rooms here.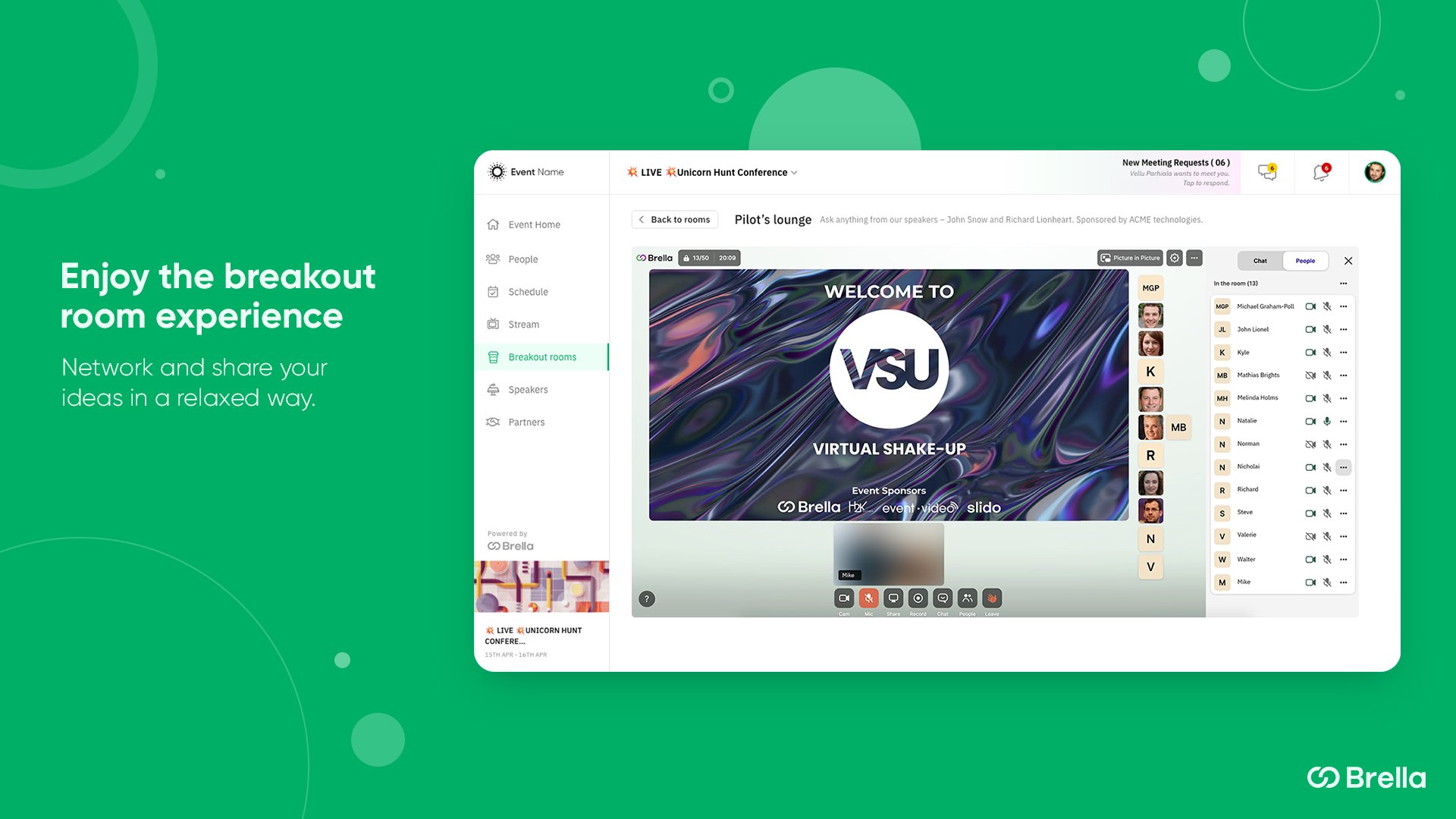 ---
Last updated on April 2021.
Written by Stephanie Campano Valenzuela.

If you didn't find an answer to your questions, please contact the Support Team here.

👇