Embed and showcase sponsors' demos, pictures, videos, PDF materials + enable live chat with attendees, etc.
In the Virtual Booth you have 2 different types of links provided, whereby you can decide what type of material you would like to embed for specific sponsor.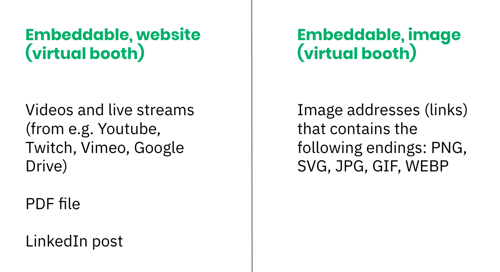 Embeddable Website will allow you to add the following materials that have embeddable links: videos (both recorded and live streams), PDF files, Linkedin posts.
Note: If you will have other material available (contact info, blog posts, etc.) with embeddable links, you can try to test if it'll work on Brella's Virtual Booth.
Embeddable Image will allow you to add images that a) were stored and have an embeddable link, b) have image address (link) that contains the following endings: PNG, SVG, JPG, GIF, WEBP.