Explore the event's agenda by filtering content sessions, networking meetings, availability and past content in Schedule.
At the Schedule of the event, on the right side of the screen, as an attendee, you will find filters that will help you explore the event's agenda and create one with your own preferences.
Bookmarks: will show all sessions bookmarked by you for the event. When bookmarking a session, you'll be able to create your own agenda and see it this filter. These will be shown on your personal calendar too, if synchronised.
Past Content: will show past content sessions that have already passed at your current time zone.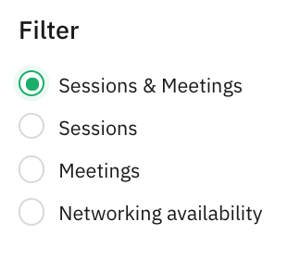 Sessions & Meetings: will show content sessions and meetings booked by you.
Sessions: will show content sessions such as keynotes, panels, networking times, etc.
Meetings: will show all the accepted and rescheduled meetings for you to be held during the event.
Networking availability: will show all the networking slots open for the event and when the toggle button is green that means you are 'available for meeting requests', and if disabled, it will be in grey meaning you are 'unavailable for meeting requests'.