Learn how to suggest meetings, and where to find your virtual meeting room.
If you are new or are a super user of Brella, here you'll see the steps on how to suggest a meeting to an interesting profile who will help you expand your network with the end of making relevant relationships for your business, your team, or your personal development.
How to suggest a meeting?
Go to the People's tab, click on the person tab that you would like to suggest a meeting with.

Then, click on the 'Suggest Meeting'. The profile of this person will open with her availability times to network during the event. On the right side, you can see your time and the local time of your match so ensure the time is suitable for both of you.
When you select a time, you'll be shown a text box before sending out the request. This part of requesting a meeting is very important to introduce your motives and reasons for why you'd like to have a chat with this person. Get to the point!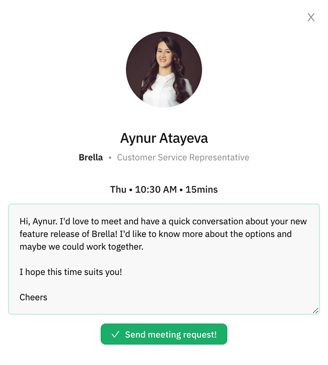 After sending the meeting request, you can wait for the match to accept, reschedule, or cancel the meeting. You can find your personal chat and Brella meeting room in the upper side of Brella, (in the pink box).

ONLY if your meeting request is accepted, a Brella meeting room will open with this person. The virtual meeting room can be accessed by clicking on the video call icon in the chat with the person.


Tip! Find the right setup for your virtual meetings here.