Learn how to take virtual Brella meetings.
Start your meeting
If your meeting is accepted, great! You'll find the meeting time in the chat and from the event schedule. You can find the chat in the pink box, right in the upper side of Brella.
The meeting will be held through the Brella video call. You can find and test your Brella meeting room by clicking on the video call icon of the chat with that person.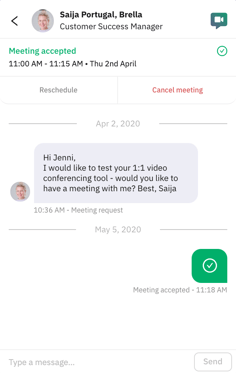 When clicking on the video call icon, you will not call your match, you simply open the meeting room. On the bottom right corner, there is a link that allows you to invite others to your Brella meeting room. In addition, clicking on the bottom left corner icon you can share your screen with others.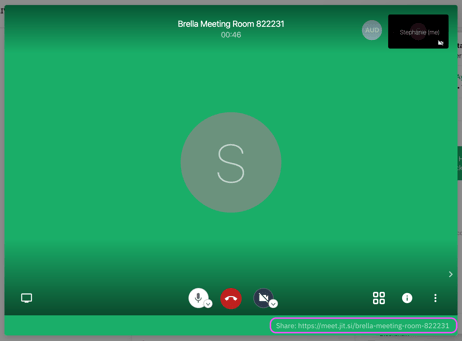 Before your actual meeting takes place, remember to...
Be on time! (You will receive a push notification reminder 5 minutes before each meeting. Therefore, we recommend enabling notifications in your account settings before the event day.
Check that your microphone and video are enabled
Tip: Brella Virtual works best in Chrome, you will be able to use video, audio, and screen sharing.
What rescheduled meeting means?
If your meeting is rescheduled - that means your match still wants to meet you but at a different time. The chat is open so you two can discuss a better meeting time, and you can reschedule as many times as needed.
Remember: if you reschedule right after sending a meeting request, the chat will be closed, as your match still needs to accept or decline the request before the chat opens.
What pending request means?
If a meeting status is Pending, that means the meeting is not confirmed yet, either by you or the other party.
Please do not leave any meeting requests you receive as pending. By accepting or declining you allow others to either plan their agenda or book a new meeting.
Remember: Leaving many pending meeting requests may lower your Brella matchmaking score.
What declined meeting means?
If your meeting request is denied, then your meeting will not happen. This can happen for many reasons; the most common one is that your match simply was too busy to meet you. Be sure to check if the chat is open, as they may still want to chat.
Sometimes, unfortunately, meeting requests aren't relevant and they are declined. But think of it as a new opportunity to meet the right person.
If you are the one who is declining the meeting, you will have to choose either to "Keep the chat open" or "Close the chat". We'd recommend keeping the chat open as you may still be interested in contacting that person afterwards.
What cancelled meeting means?
If a meeting was cancelled, this means that:
you have cancelled the meeting request, or
you/your match cancelled the meeting after accepting it
In the latter case, the chat will still be open. When cancelling a meeting, you can send a message. Please let the other person know your reason for cancelling as that's the polite thing to do.
Note: You'll be notified of all meeting status changes by email and push notifications. We recommend enabling notifications in your account settings 3 days before the event.