📖 Your Schedule & Availability
Set your networking availability on Brella
Whether you want to receive a limited number of meeting requests or your priority is to attend the educational sessions. You can change it at any time.
You can enable/disable your availability in three ways on the Schedule page.
Web app (next.brella.io)
Go to the 'Schedule' page,
A. The first option is to click on 'Networking Availability' under Filters. There you will be able to click on the open checkboxes, one by one, to disable your meeting slots.
B. The second option is to click on 'Your Availability' in the filter section. There you can choose the day(s) you would (not) like to network.
C. The third option is to select your networking days during the registration process per day only.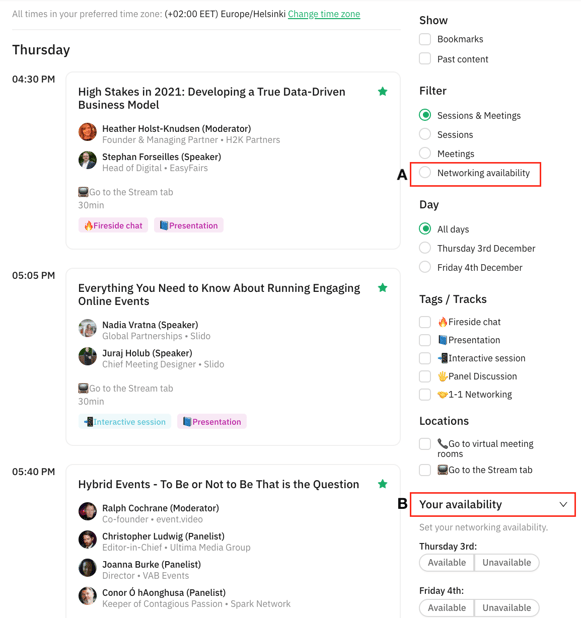 Mobile app (Apple & Android)
Go to the app.
Tap on the Schedule page.
Select Availability. There you can set your availability per day and per timeslot.
Please select the time slots you want to block by toggling them off one by one. Or, if you want to block all time slots, then toggle off the button "Disable networking for all the available slots in the day."
After deactivating the time slots selected, you will see that the slots are marked as "I'm unavailable for requests," in grey color.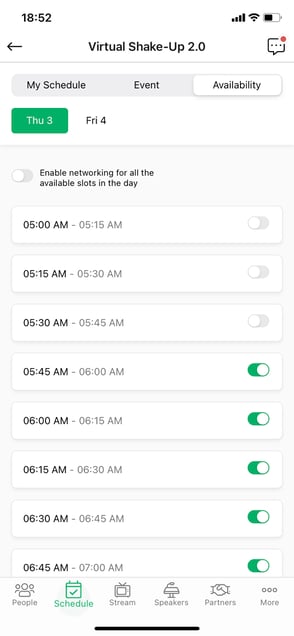 ---
Last updated on March 2021.
Written by Nita Kumpu.

If you didn't find an answer to your questions, please contact the Support Team here.
👇