You can see the total meeting about your attendees in the overview tab.
In the Overview tab, you can find valuable analytics about your attendees' engagement. This section is dedicated to informing you about the total of attendees with meetings and without meetings during the event.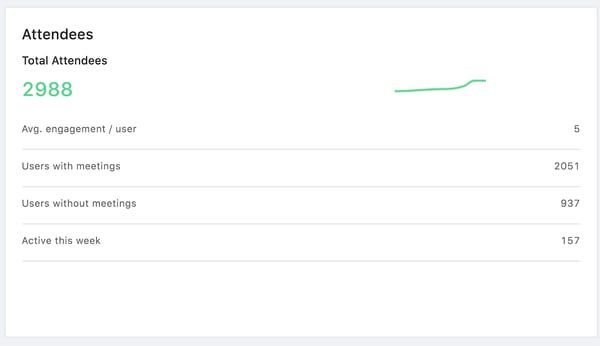 Total attendees show the total number of attendees registered in the Brella platform.
Average engagement/user is the average number of meeting requests divided by the total number of users with meetings.
Users with meetings show the number of users with at least 1 accepted meeting.
Users without meetings show the number of users without meetings in Brella. If this number is high (i.e, one week before your event), it may be beneficial to send reminder emails to your attendees so they remember to book meetings.
Active this week shows the number of people using the app as of this week ( 7 days).