View the hot topics, the most chosen categories, and the intents your attendees had and talked about during your event.
You can see all the statistics about top-chosen matchmaking categories, interests, and intents in Matchmaking Tab > Statistics in the admin panel. Besides observing the results through the Admin panel, you can export the matchmaking data by clicking on Export data on the right side of the Matchmaking page.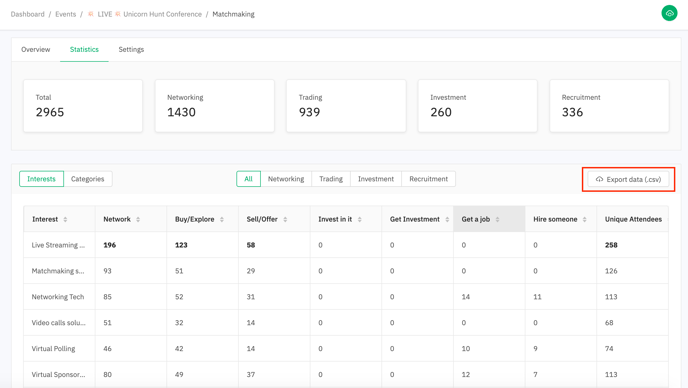 Why this is so important?
Matchmaking is everything that comes to successful event networking. Brella's matchmaking connects people based on their interests, including your sponsors who seek to have meetings with people who look for their solutions. Besides the value of finding relevant connections that your attendees and sponsors get from the platform, Brella is also your market research tool that helps you to...
Understand where you stand with your content: Based on the interest selections, is your event offering what your audience wants?
Sponsor ROI: Besides proving the sponsor ROI through Brella by evaluating your sponsors' meeting performance, based on the interest and intent selections, what kind of potential sponsors should you prospect for your future events? What are people seeking to explore or buy and are those services, solutions, and products covered by your current sponsors? Based on the data, how does your ideal sponsor profile look?