Brella's People tab gives you access to all participants' information who relate to your event, for instance, attendees, sponsor representatives, speakers, and event admins.
In this article, we briefly explain all the actions you can do in each subcategory on the People's tab. We also linked articles that will explain each functionality in more detail.

Attendees
When you click on Attendees, you'll see the list of registered participants. The participants provided all the details, such as name, company's name, title, networking status, sign-in method, meetings, and email used to log in.
You'll also see how many meetings they have during and post-event by clicking on the View Profile under Actions.
Under Actions, you can remove anyone from your event; this is where you can do so. Click on Delete, and they will be deleted from the event.
In this subcategory, you can also arrange meetings between participants, attendee-speaker, sponsor-attendee, and so on. You can do it even on this page by following the hosted-buyer program instructions.
👉Note: You can also export data about the attendees and their meetings, i.e., 'who-met-who' for your own particular usage and/or for your sponsors and attendees. You need to click on 'Attendees export' or 'Meetings export' to obtain this data or visit this article.
Invites (Unique Join Codes)
Invites are the place where you can generate unique join codes for your attendees. This way, your event will be completely private, and you will have more control over who can join the event.
If you opt to use the open join code/link for your attendees to register in Brella, you will see the free join code and URL instead of the unique join codes generator page.

If you decide to use the unique join codes, you can click on Set to invite-only (right top corner). You will get the unique join codes generator page.

To learn how to generate codes on Brella, you can go to this article to show you how to do this step by step. You can create the codes one by one or by importing a csv file in 5 mins.
🔍Note! Brella will help you generate the unique join codes but will not deliver these to your attendees. Use your email system to send out the registration emails instead.
Event Managers (Admins)
Event managers are the admins of your event who have full access to the event platform and can make any changes to the event. However, they cannot create any new events but can add anyone as an admin or attendee to the event. To be added as an admin, you need to have a Brella account. For more information on this, please go to this page.

Speakers
On this tab, you can create the speakers' profiles. It will also allow you to add, edit, and remove your event speakers to your event on Brella. Note that creating a Speaker profile does not mean that you're making them a Brella account. They still need to create a Brella account independently and join the event as an attendee to have access to the platform.

In this article, we show you how to create speaker profiles, you can do this by CSV file upload or adding speakers one by one.
⭐Tip! Invite your Speakers to create an account, so they can also enjoy the event from the attendee's perspective. Attendees would also like to connect to them as this is one of the main reasons attendees attend your event.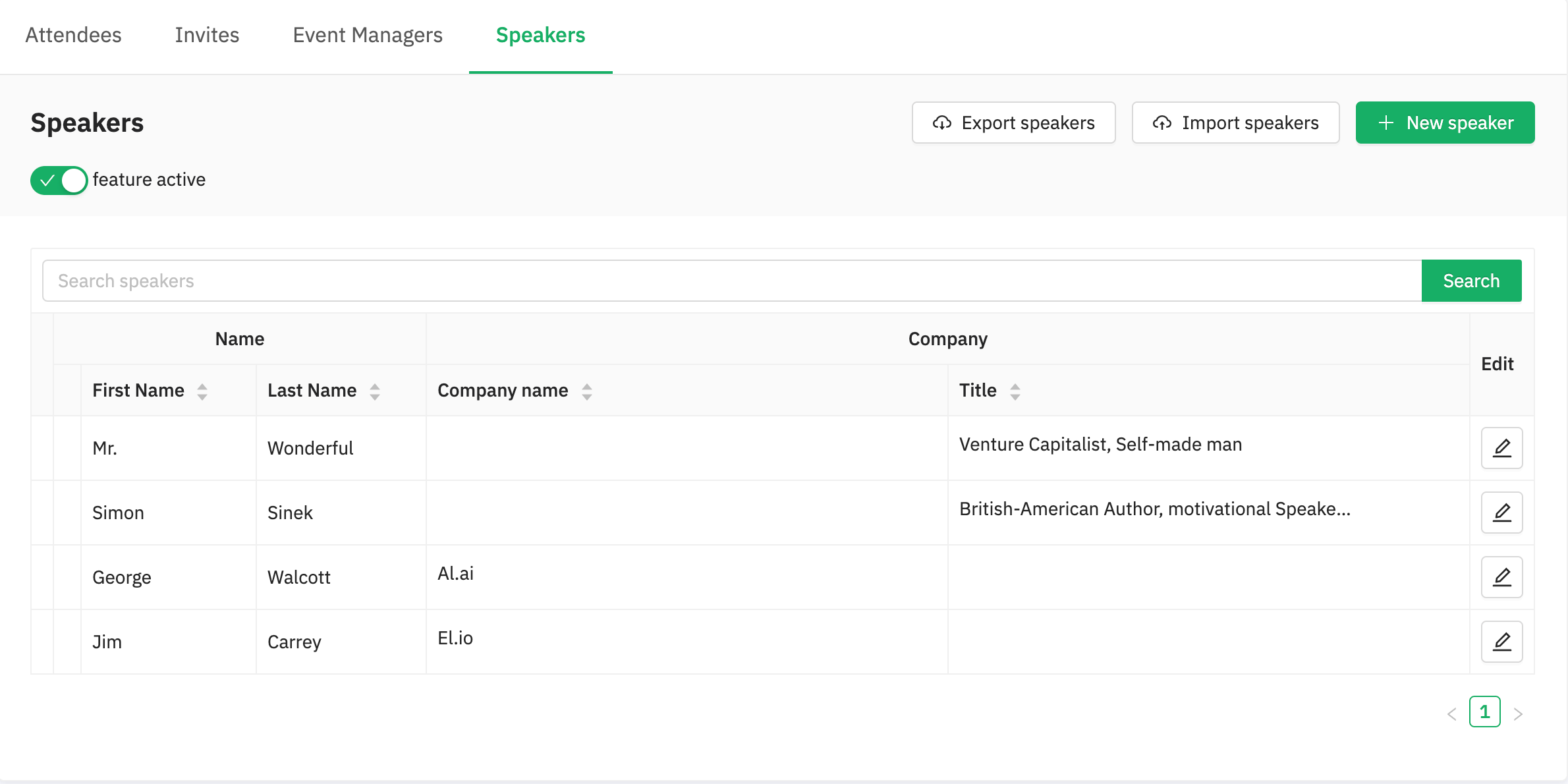 Speakers list displayed at your event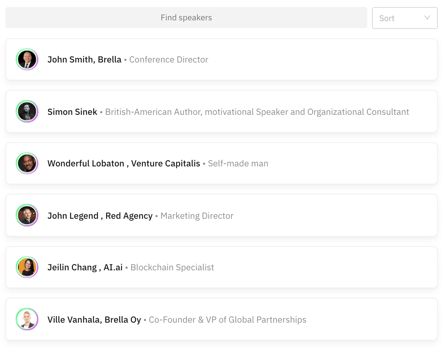 If you click on a speaker's profile, you can see all the sessions where he's part of.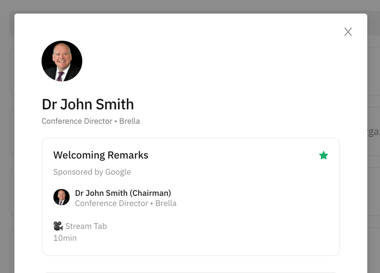 ---
Last updated on February 2021.
Written by Stephanie Campano Valenzuela.

If you didn't find an answer to your questions, please contact the Support Team here.

👇