Build a solid communications plan and share the joincode or join link with your registrants. Monitor your signups & activity from the Overview tab.
Are you ready to invite your attendees? Great! Before you do, there are a few things to go over to make sure your launch is a success.
An essential part of a great launch is a solid communications plan. Your attendees need to know about the great networking opportunity you're providing them, and they need to hear it early and often.
This article will guide you through the essential steps.
Note! The best communication plan is a continuous and iterative process. By continuously promoting Brella and the networking opportunities at your event, you will help more attendees join and have a great experience!
Why do I need a communications plan?
Just as you need to continuously promote your event to draw attendees, you need to also encourage attendees to join Brella. And the best networking experience comes from a high number of engaged attendees to provide the best matches possible.
So, a dedicated communications plan helps you guide your attendees to Brella, where they'll network with ease and have a great time at your event.
When is the best time to invite attendees?
Our data clearly shows that the best time is 2-3 weeks before the event. During this time, your attendees are preparing for your event by viewing the schedule and content, so it's a perfect time to pre-book meetings with relevant people.
However, note that most attendees are active one week before your event. This is when the majority of attendees will start creating accounts, joining your event and booking meetings.
So while it's important to launch the platform in good time, the best thing you can do is invite your attendees to Brella early and then encourage them to use the platform before the event. According to our data, 60-80% of meetings are booked before the event, meaning your attendees will take time to engage with your event and plan their journey.
How can I invite my attendees?
Inviting your attendees is simple: copy the join link for your event and send it in an email to your attendees. They'll be taken directly to your event, where they can sign in and start networking.
Including the join link in a welcome email is the easiest way to invite attendees.
You can also provide your join code and links to the different versions of the app for them to join. However, the join link is the simplest solution for your attendees when it comes to inviting your attendees to Brella. You can add it to any event email too.
Once you're ready to invite your attendees to Brella, create a launch email detailing the networking experience available to your attendees, and include the join code and join link. We have an example for you here:
The Brella AI matchmaking app is now open to all <<Your event name>> attendees! You can view the event schedule, see who is attending and book 1:1 meetings with top matches at the event.
It's important that you all find the best connections possible and achieve your goals at your event! So join now and start networking.
<<Join link>>
Want to use Brella on the go? No problem! Download the app from the App Store or Google Play and use join code <<Join code>>.
Best,
Feel free to tailor it to suit your needs, or create your own!
We strongly recommend sharing your join code and join link with your attendees only. If you don't use the invite-only feature, that means that anyone can join with your join code. You can always remove attendees who are not part of the event.
Inviting attendees is the easy part! However, one invitation doesn't cut it. It's a good practice to remind your attendees to join Brella and start booking meetings. After all, attendees live busy lives while they wait for your event, and sometimes your message is missed.
We've gathered some great examples for encouraging your attendees to join and use Brella in the next section!
Encouraging attendees to join Brella
Nearly 80% of attendees want to network as a main goal at events, so that makes your job easier! Your attendees don't need to be convinced to network, but they do need to hear about the networking opportunities you have - and most likely, they need to hear it more than once.
Here are a few proven, effective tactics to get as many attendees as possible using Brella.
Dedicated emails
Sending emails to your attendees is by far the best way to let them know about Brella. We recommend sending at least 3 emails before your event begins.
The most important email is the launch email that we detailed above. Once you're ready to invite your attendees to Brella, create an email that contains your join code and join link, and briefly describe the platform.
This informs all attendees currently registered that the platform is open and they can start networking. The optimal time is 2-3 weeks before the event, as that is when most attendees start preparing for the event.
Then, it's handy to send reminder emails to your attendees to encourage them to check their Brella profile, and entice new attendees to join. You can also schedule them through the Admin Panel (more on that below.)
You can also include the Brella join code in all email communications with your attendees to get more attendees networking!
Networking section on website
Another way is a dedicated section on your website to promote the networking opportunities at your event. With networking being so important to attendees, it's an easy way to get them interested!
As well, you can highlight the ease of use of Brella and the networking benefits. We have some example copy and images you can use here.
Here's an example from Informa on a great networking section on their website.
https://informaconnect.com/gaim-ops-cayman/networking/
Blog posts and newsletters
Promoting the benefits of networking and the opportunities you're providing are a great way to generate interest and get attendees using Brella. As well, you can share these in your newsletter or other email communications.
Social media
Creating short, sharable content on your social media channels about networking and the networking opportunities are excellent ways to both spread the word and encourage signups.
Here's a great example from All-Ireland Business Summit on promoting the networking opportunities at their event via LinkedIn.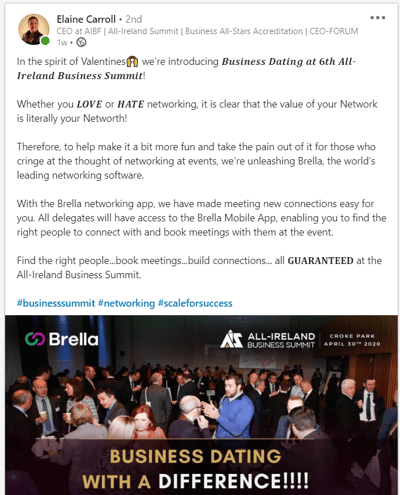 Preparing for the networking at your event
Once you have a solid communications plan, it's time to start thinking about the experience at your event itself.
Preparing the networking area
The best networking areas are found in the center of the event venue, as it has high potential to become a buzz area in your event.
If possible, using high boy tables with numbers helps give meetings their own space. The main goal for these networking meetings is to make introductions, so your attendees can follow up later!
Once you decide on a suitable networking area, add it to your floor plan if possible so your attendees can find where they need to go for their meetings.
Table numbers, event prints & badges
If budget allows, printing table numbers in a big, bold format helps attendees easily identify their meeting table. As well, signage can help guide attendees (and is an excellent sponsorship opportunity).
If your event has badges, printing a QR code linking to Brella can help drive more attendees to the platform.
Brella reminder emails
Through the Admin Panel, you can schedule emails that will send to all attendees, reminding them to check the event for new matches and answer their meeting requests. You can see how they look here.
We recommend sending 3 reminder emails at minimum:
1 week before the event
3 days before the event
1 day before the event
Our data shows that sending at least these three reminders can boost engagement by up to 60%, meaning your attendees book more meetings and are more satisfied.
Your communications plan checklist
Create your event and add:

Send your first invitation email to attendees 2-3 weeks before the event
Schedule multiple reminder emails to send a few times 1 week before the event
Add your networking opportunities to your website, blog and social media
Monitor your progress from the overview tab
Related articles