Invite-only functionality is a more secure joining process whereby you can generate unique invites for your attendees. This way you will have more control over who can join your event.
By Invite only -feature, you will be able to:
generate a unique invite for each individual or a group
to choose the number of times a certain unique invite can be redeemed
track if a certain unique invite has been used or not and by who
delete certain invites
In a nutshell the theory of how the Invite only works for you, the event organizer:
Once you have your registrants' (attendees') information such as email address, first name, and last name, you...
1. Create invites in Brella's Admin Panel and generate the unique invites for each attendee or group
2. Export the list from Brella's Admin Panel and upload that list in your email marketing tool and send the links to each attendee or group
How do you generate unique invites?
In order to use Invite only, here are the steps to take in the Admin Panel:
1. Check the box that says
Invite only
in the Details tab.
2. Type a URL identifier for your event. This URL will be shown in the Brella web app (https://next.brella.io/exampleevent). This identifier cannot be used to enter the event, your event just needs to have an identifier.
3. Scroll down the page and click on
Save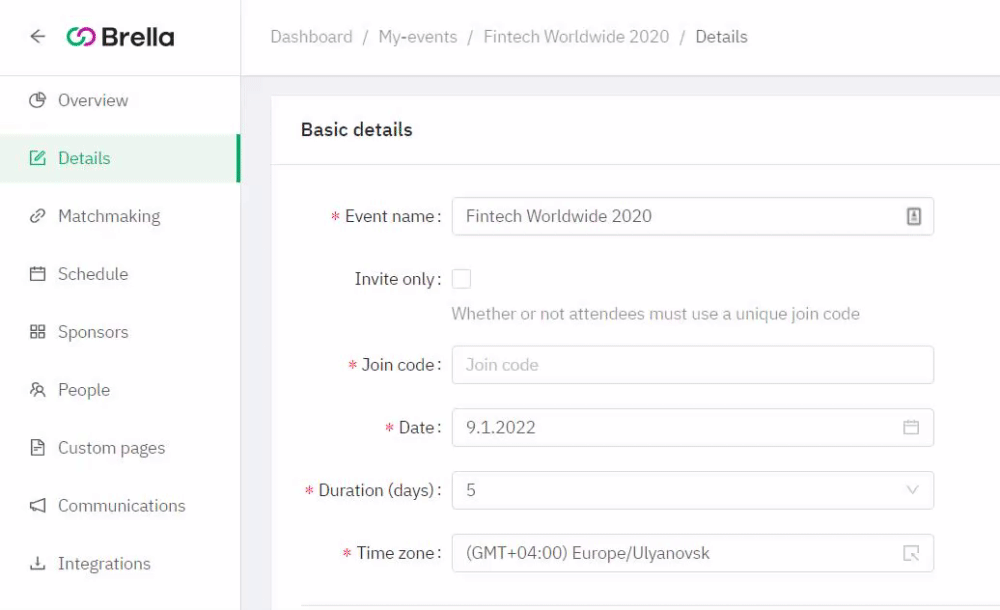 The next step is to import the attendee details. You can do it in two ways:
Once the unique join codes have been generated either by uploading the .csv or manually through the user interface, you can see the unique join code like in the photo below. This code is the identifier of the invite and can be used by mobile app users to redeem the invite. When you click on the Join code (circled in the photo below), you can see that the join link gets copied to your clipboard.

The join code and the link are exactly the same except the join link includes https://next.brella.io/ -URL in the beginning.
So how to distribute the invites?


4. Export the invites from Brella by clicking
Invites export.xls
5. Import the file in your email marketing tool to send the unique links (Column H in the file called
join_url,
please see photo below) to your attendees accordingly. We
do not recommend
you to share
both join link and code
as it can be a confusing experience for your attendees. If you are in doubt, please contact your support staff at Brella.