You can delete or edit your invites manually in the Admin Panel by clicking on edit icon on the left side within the invite box.
Content
Delete an invite (completely)
Go to the admin panel > select People's Tab > Invites.
Select the edit icon for the invite you wish to delete, then select 'Delete invite' at the bottom. This removes all users and seats associated with that invite from your event. You can always re-create an invite if needed.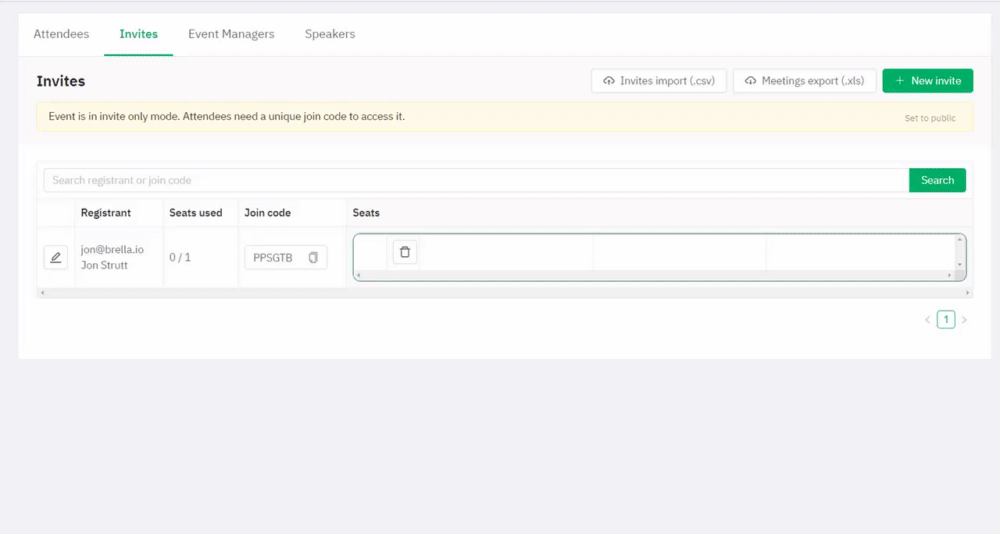 Delete a seat of an invite
Go to the invite, simply click on the trash bin icon next to the seat you want to remove (under the 'Seats' column).
You can also remove seats by editing the invite and reducing the number of seats attributed to that invite.
You can delete a seat occupied by an attendee, which would remove them from the event, or then an empty seat, which will only reduce the number of seats allocated to that particular invitee.

Note: At the moment it is not possible to send emails with the unique join code details via Brella. They must be sent manually or through your email marketing software.