Schedule: Add or remove tags or locations on the schedule
You can either add, edit, or remove tags and locations for all sessions at once or one-by-one when needed.
Add a session or location tag individually.
You can add or remove tags and locations for sessions individually by:
Clicking the "Edit" button on the left side next to the session you want to edit.
Scroll down to the session details to the "Location and Tags" field section and add new tags/locations for the given session.

3. If you haven't created any Location or Tag previously. Click on the Location or Tags "Add new" respective buttons, then give a title and your preferred color. It's optional to add an emoji. 🙂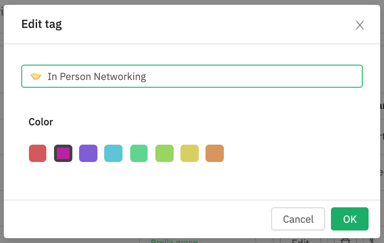 Add or remove tags from one page
Alternatively, you can press "Tags and Locations" from the Schedule tab. You can edit, add or delete tags and locations for all sessions by clicking on the "Edit" or the "Trash" icon.
You can also add new tags and locations so you can select them for future sessions.

---
Last updated on March 2021.
Written by Stephanie Campano Valenzuela.

If you didn't find an answer to your questions, please contact the Support Team here.

👇