You can add your whole agenda on Brella by creating content slots in the Schedule tab.
1st Step: In the Schedule tab, click "Add new slot".

2nd Step: Then select "Content slot".
3rd Step: Enter the details of the content slot: title, subtitle, start time, end time (or length), existing/new location, existing/new tag, session description. Only the start and end time are required, but we recommend adding as much information as you can. A detailed agenda helps attendees navigate your event with confidence and gives them a better experience.
Here are some guidelines to help you:
Title - the title of the session. The best titles are catchy, simple and short.
Subtitle - add additional information, like the speaker name and title, registration or sponsorship information. The subtitle is only seen in the overall schedule view, not the detailed view.
Locations - essential for large or multitrack agendas. These help orient your attendees and ensure they know where their sessions are.
Tags - these help attendees filter for content relevant to them. Having detailed tags help attendees navigate your event with ease.
Speakers - great addition to your sessions. You can first input all the speakers and then link them to their sessions. They will be displayed under the session title.
Content - add the session description, speaker bios and photos (max size for a picture is 5 MB), links to your event website, sponsor information, etc. You can also do basic formatting here.
Tip: We suggest checking how the information you entered on the Admin Panel (manager.brella.io) appears in the app and in the Brella Platform (next.brella.io).
This is how it may appear on the Admin Panel.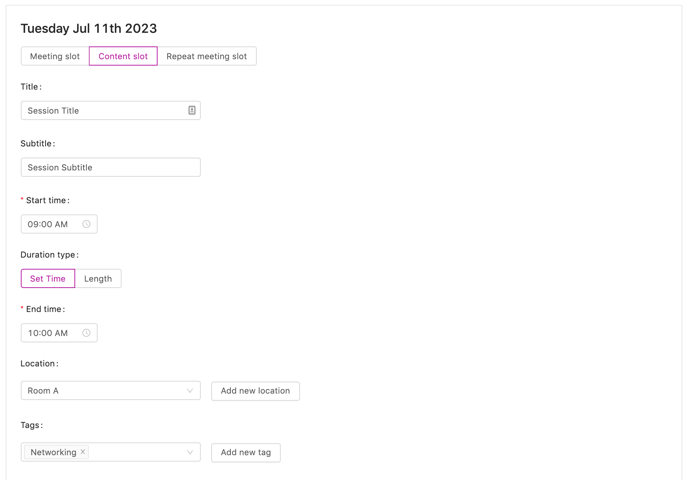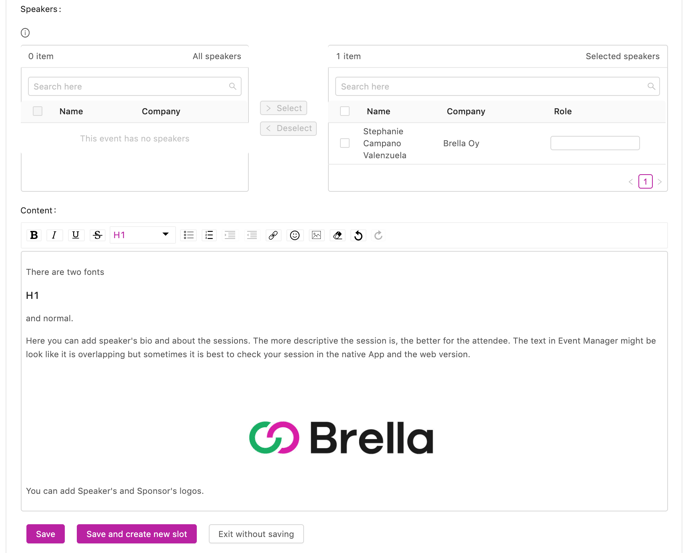 You can link speakers to sessions by selecting names from the left box to the right box. You can learn how to add speakers on Admin Panel here. All the speakers from the right box will be displayed in the given session on Brella's app (mobile and web).

You can also change the size of the photo when uploading a photo to the Admin Panel. It is currently always set to auto adjust the photo. Remember that you can edit your schedule at any time, and updates go live instantly.
4th Step: Press "Save" to return to the schedule or press "Save and create new slot" to create a new slot.
Related Articles