Add sponsored ads to promote your sponsors directly in the People's tab.
What are Sponsor Ads?
Sponsor advertisements are an excellent tool for boosting sponsor presence and helping them get even more meetings. They appear similarly to an attendee profile, with an introduction and an option to suggest a meeting. When attendees select "Suggest Meeting", they can see the sponsors representatives at the event and also read more information about the company.



Where are sponsor ads displayed?
It will always be found in the 4th tab from the first People's page.
How many ads can I have in one event?
You can have more than 1 advertisement active at one time. When creating an advertisement, you have an option to set its display share. Because there is only one advertisement spot, the display share determines how often it appears to attendees.
What is display share?
The total display share is 100%.
For example, if you have two sponsors you wish to promote, you can set each ad display share as 50%. This means that each time an attendee views the attendee list, there is an equal chance for either ad to show every time the People page is open or refreshed.
Note: Refreshing the attendee list counts as a new view, so attendees may see different advertisements when they refresh the list.
Creating your first sponsor ad
You can add a sponsor advertisement by going to the Sponsors tab then clicking on "Sponsor ads" in the Admin Panel and pressing "Create new" in the right top corner. There you will be able to add the details about your sponsor advertisement. You will also see a preview on the right of how the sponsor ad will look in the People tab.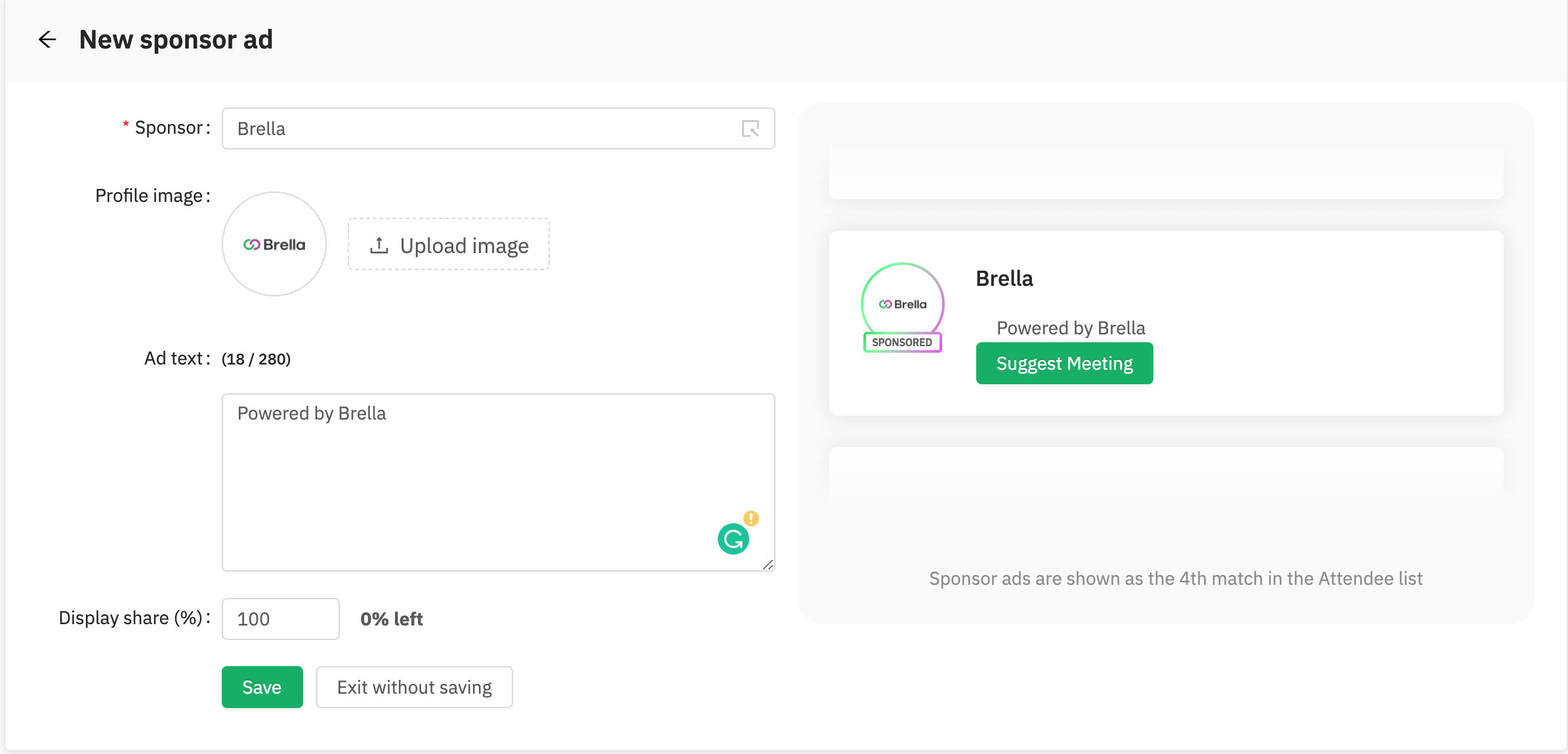 Select a sponsor from the dropdown menu (if you haven't added sponsors, learn how to add them here). Add a profile image if your sponsor doesn't have one, then create the sponsor's introduction.
Tip: We recommend asking your sponsors for a pitch to add in the Introduction. Also, a good practice here would be to promote sponsors' specific products.
After, set the display share. If you plan to create only one ad, set it to 100%. You can always edit this display share later.
Once all the information is complete, select "Save". Your sponsor ad is now live!
After this is done, you can also see how well your sponsor advertisement is doing in the "Active" section (see screenshot below).
Monitoring your sponsor ads
You can always view the effectiveness of each advertisement from the Sponsor Ads tab.
You can also edit ads, change the display shares, or delete them from here.

You can also view:
The display count. This tells you how many times an attendee refreshed or visited the attendee list page for the first time on the Brella platform. Going to different tabs on the Brella platform in the same event does not count as additional display points, as well as going to the next page of attendees.
The click count. This tells you how many times your attendees have clicked on the sponsor ad.
You can also remove a sponsor ad by clicking the Trash button next to a sponsor ad. The deleted sponsor ads will be shown below the Active sponsor ads, along with their display and click counts before removal.