View your Sponsors' networking metrics, add or remove representatives, and more in the Sponsors tab.
If you press on your Sponsor's name in the Sponsors Tab in the Admin Panel (manager.brella.io), you will see three tabs:
Representatives
1:1 Meetings
Traffic Analytics (for Virtual Events)
Representatives: You can see different statistics about attendees who represent the given Sponsor, add or remove representatives who will be linked to the sponsor's card, and finally export the CSV file for analyzing the data about the meetings of those reps.


1:1 Meetings: Here you can see the summary of the meetings that the sponsor had, this information is also exportable to a CSV file. Additionally, this tab will show you the statistics on 'who met who', for more in-depth information on the meetings which were held.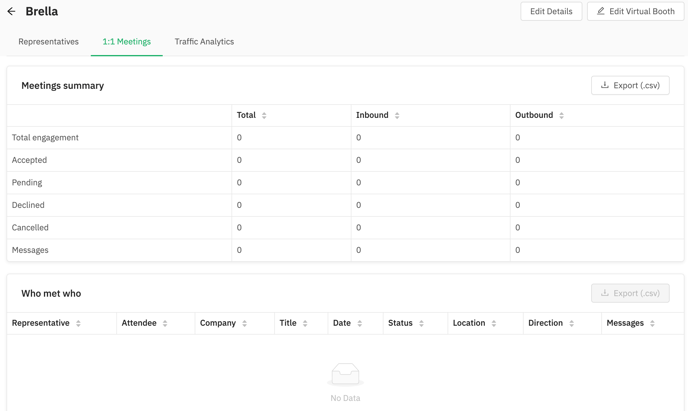 Traffic Analytics (for Virtual Events): The tab for keeping the track of the attendees' traffic who visited the Virtual Booth. This tab was designed for virtual events, however this might be used for in-person events as well. This data can also be exported to a CSV file.

Note: All data that you can export from Brella's Admin Panel brings great value to your Sponsors and their ROI. Hence, motivate your sponsors to be proactive on Brella's App as that will bring valuable insights not only for their team but also their wish to buy tickets to your events in the future!