The Event info tab allows you to add important pages, images, posters, brochures, infographics, etc. for your attendees to have at hand before and during the event.
Content:

Let your attendees know about the event information, restaurant menu, Wi-Fi credentials, survey software in use, share the content sessions' presentation materials, and much more with the Event info functionality.
Any content pages you add in the admin panel will be shown on the Event home page on Brella on the right side of the page.
As an example, you can see the photo below.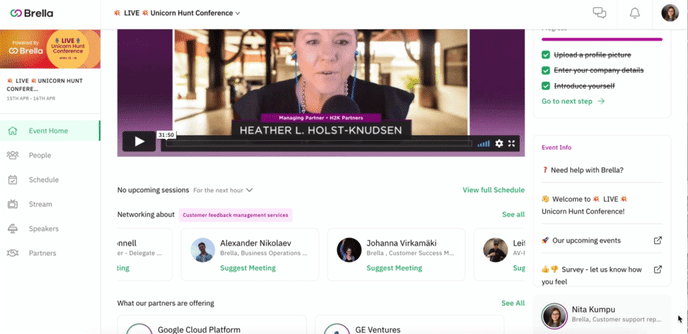 Event Info Pages: Website link or Text editor

In Brella, you have two main types of event information you can add, and they are displayed in the Event home.
1. Direct website link
By clicking on the website link, a user will see the new tab's website (if using the web version) or a browser window inside the Brella app.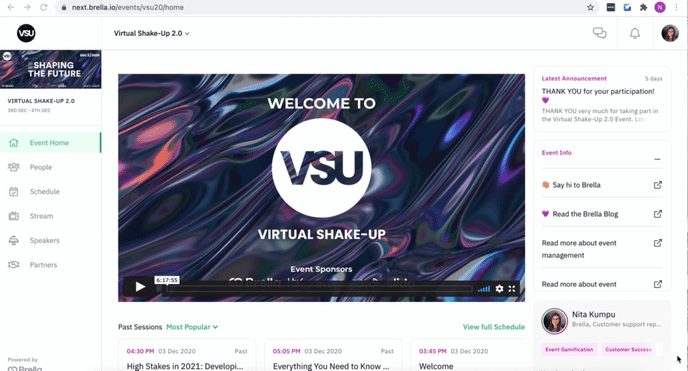 2. Text editor
By clicking on the text editor, a user will see the text in a pop-up window. Because the event info is highly customizable and easy to use, your possibilities are nearly limitless, and using this feature is a very smooth experience.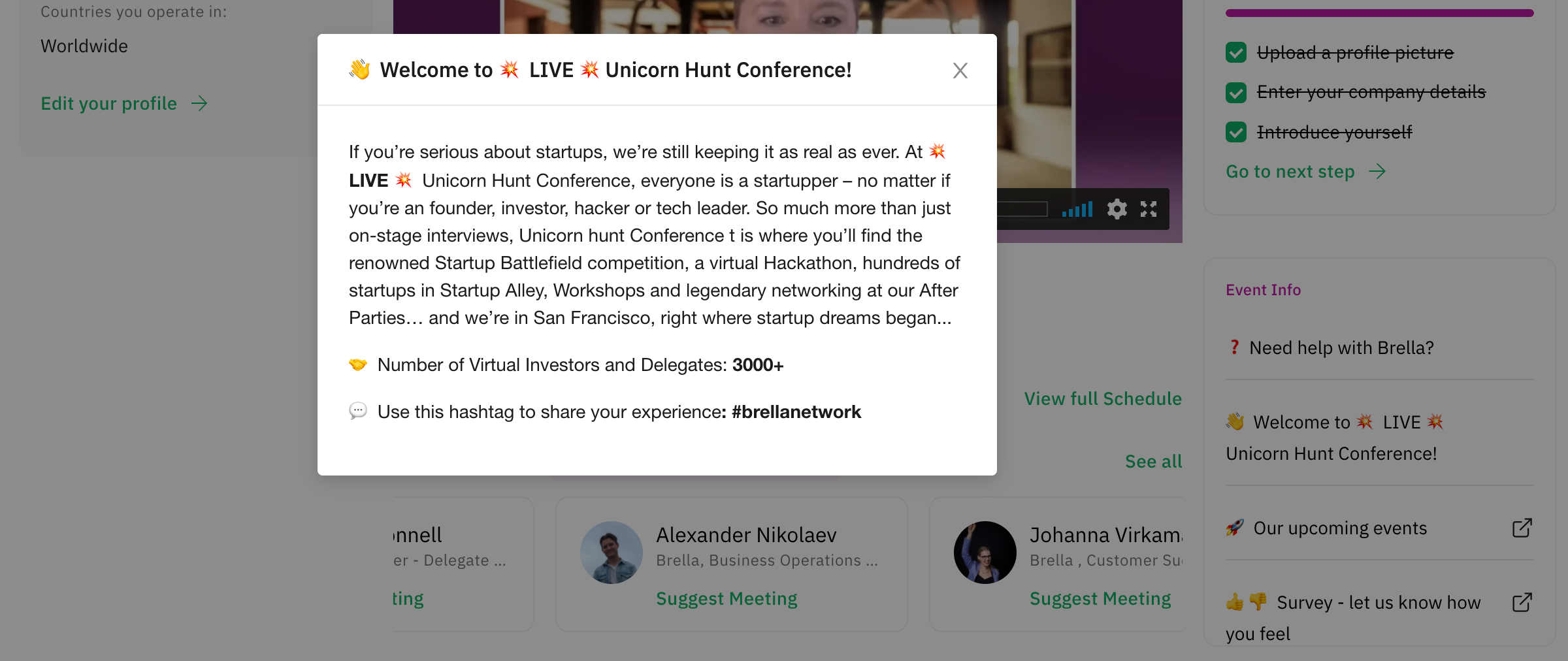 To give you a better idea of what you can add:
You can add the event information with social media links and venue addresses to the event homepage!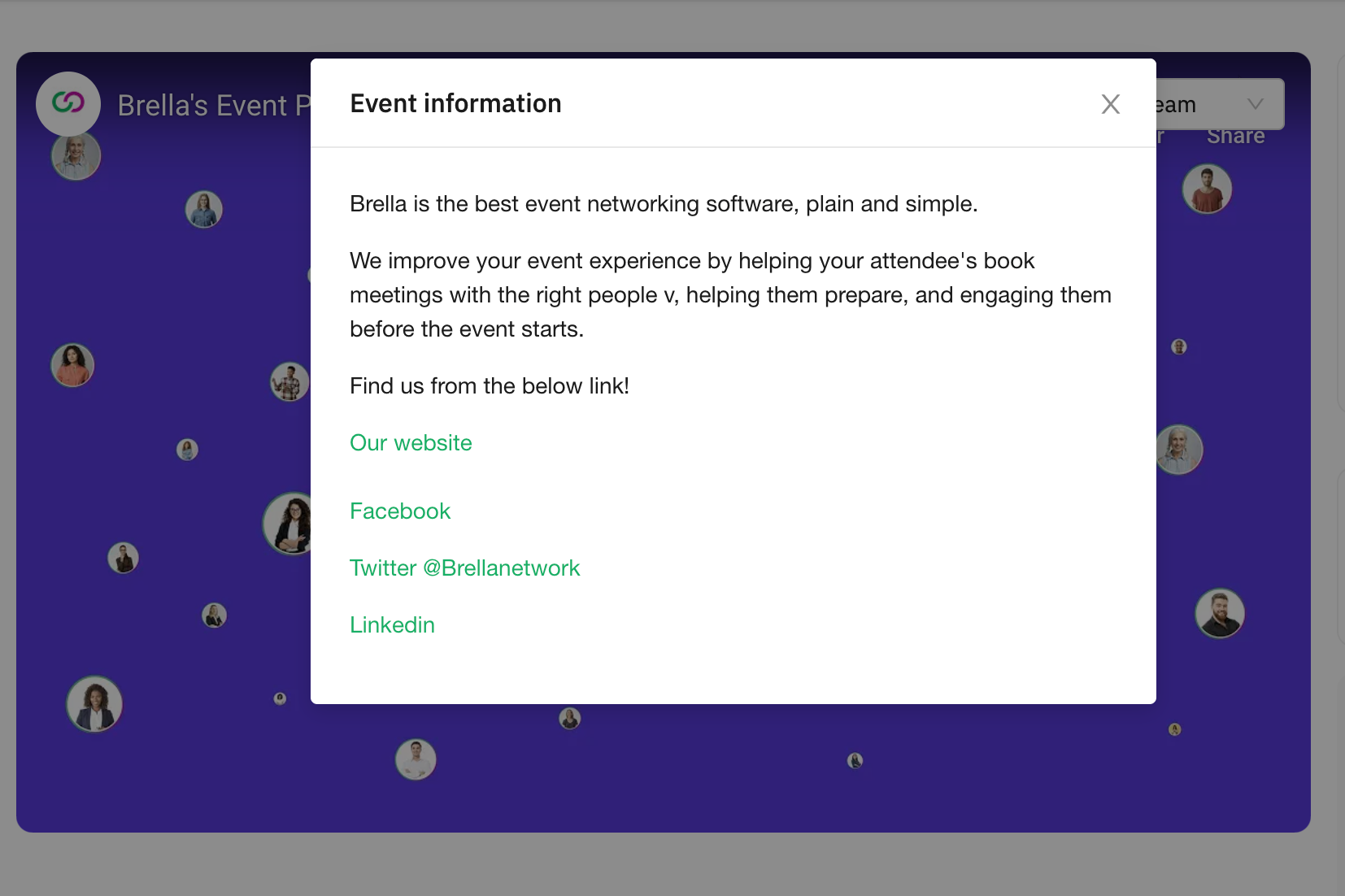 For example, if you want to add a poll, you can add a direct website link from the polling software you use. Each attendee can then access the link from the More tab and interact with the poll. Once the user is logged in, their credentials will be saved, meaning they can access the poll later with ease.
There are endless options on how you can use the Event info functionality. Ticketing software, accommodation options for the attendees, sponsor websites, promotional videos - your imagination is your only limit!
How to add Event Info
We show you step-by-step instructions on how to add event information to your event.
Start adding your event info in the Event Info tab and clicking Add event info.



Create a title and choose your page type. 'Editor' shows the basic text editor (below). Here you can add as much text as possible, hyperlinks, images, infographics, and images.


To add a direct link to a website, e.g., for social media or event website, you can click on Website under Page type and add your site's link.



Select Add New Event Info, and your page is live. You can now review it on your event home page.
❓If you want to know more about what you can do with the custom pages, reach out to your CSM or contact us.
---
Last updated on March 2021.
Written by Stephanie Campano Valenzuela.

If you didn't find an answer to your questions, please contact the Support Team here.

👇