Create your schedule from the Schedule tab. Add content slots or meeting slots, and add tags and locations to help attendees find what they're looking for.
Brella's schedule allows attendees to easily orient themselves in your event's program, decide when they want to network with other attendees, see session details, and have their networking and essential event information in one place.
Activate your schedule
To start, go to your event on Brella's Admin Panel (manager.brella.io) and click "Schedule" from the sidebar. There will be a prompt asking you if you would like to activate the schedule. Click Activate.
Your schedule is activated! If you'd like to learn how to import a pre-made schedule, you can do so here. This article will cover how to create a schedule in the Admin Panel itself.
Let's start by adding content slots - your keynotes, sessions and more.
Add your first content slot
Click + Add new slot in the top right corner to add a slot. At the top of the new screen, click Content slot.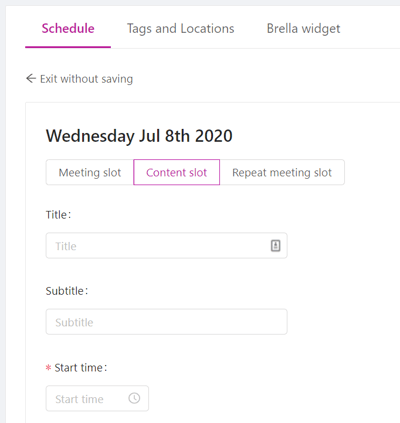 Here you can add all the relevant information for your session, like:
Title
Start & end time
Location
Description
Speakers
Rich media (images, hyperlinks and more)
Once you're satisfied with your slot, select Save and create new slot to continue creating slots, or Save to return to the schedule hub.
Once you've added your content, it's time to add meeting slots so your attendees can network!
Add your first meeting slot
Meeting slots are dedicated networking times that you create for your attendees during the specific timeframe. When your attendees find a match, they will suggest a time to meet based on these slots.
That means you have great control over your facilitated networking! You can fill gaps in your content with networking breaks, or have networking open throughout the entire event.
Our data shows that attendees appreciate having open networking slots all throughout the day, as that means they can make their own choice of content and networking.
To make long blocks of meeting slots, select Repeat meeting slot from the top. For individual slots, select Meeting slot.
There are 3 important things to select:
The start & end time
The duration of the meeting
The location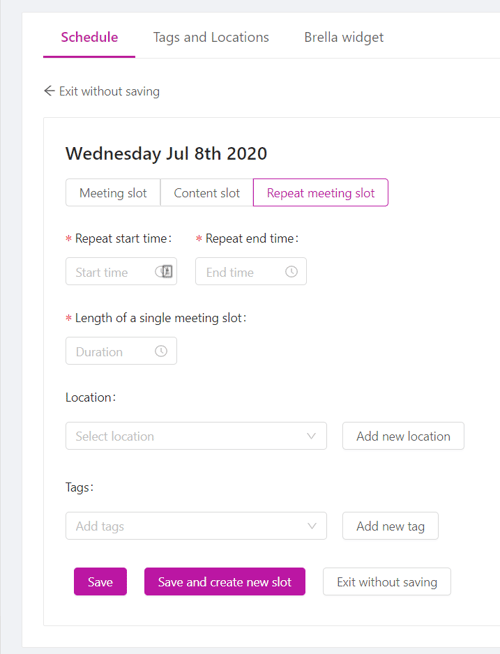 The most common networking times are 15 minute/meeting. If you're unsure of how long or short they should be, that's a great start.
Once you've chosen the times, choose the location. We highly recommend having a dedicated networking area at your event, and labeling it accordingly. This helps your attendees immensely when it comes to finding where their meeting is - especially at busy events! The networking area also helps when adding tables. You can read more about that here.
Below is an example of a completed repeat meeting slot.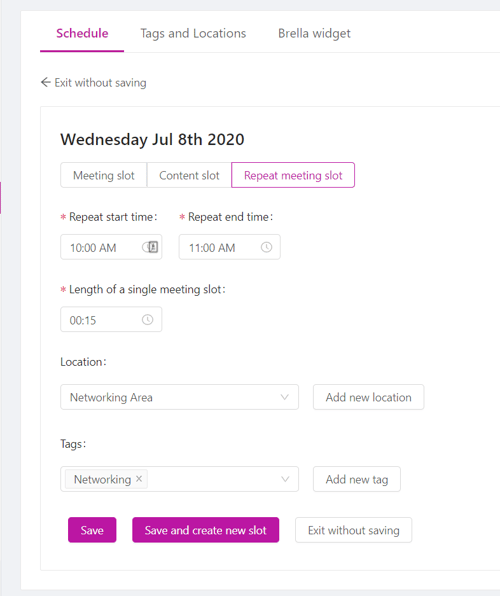 You can repeat this process to add as many networking slots as you'd like to your event. And here is how it would look in the schedule.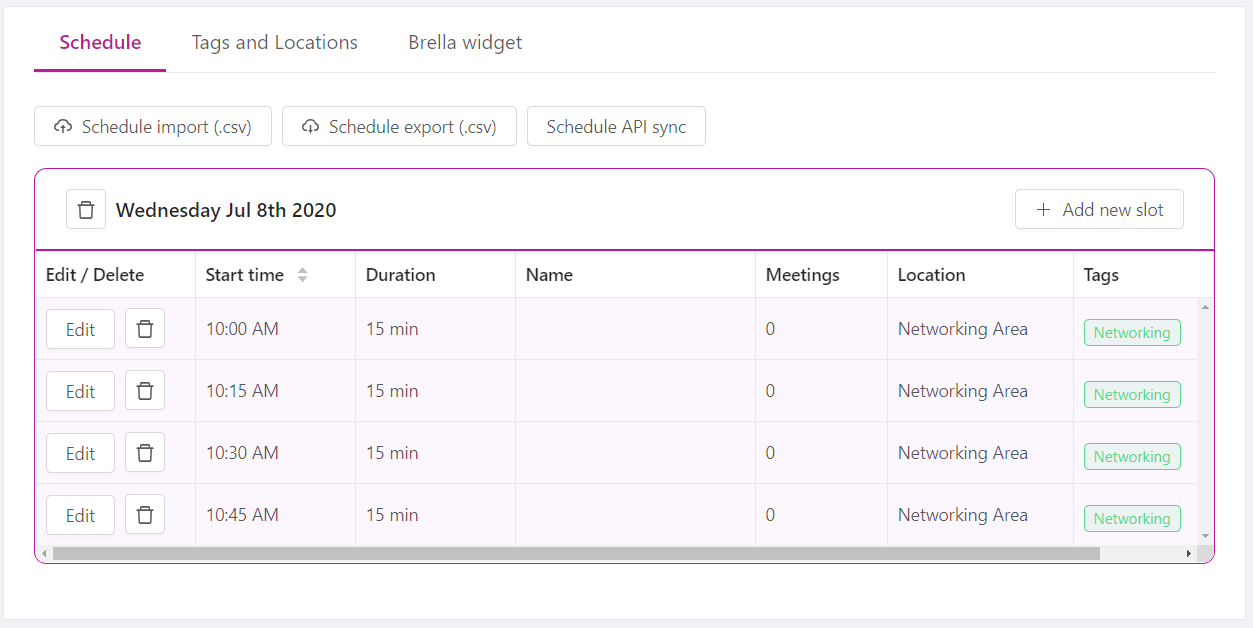 Congrats! Your schedule is ready for your attendees to use. But before you start inviting attendees, let's take a look at the Tags and Locations available in Brella.
Note: You need to create just 1 meeting slot for multiple users (attendees) to network at that specific time slot. Every single meeting slot is visible for every attendee. The only time when users won't be able to network during specific slot and with specific attendee, would be when someone from those 2 parties won't have any availability.
Tags and locations
Since large agendas can be difficult to navigate for attendees, we have a robust filter available to them that uses tags and locations, among other things, to help attendees find exactly what they want.
Tags can be related to the content, for example if you have different tracks at your event. You can create tags that fit to the respective track and colorcode them. You can also further segment your track slots with multiple tags.
Locations are similar to tags, but you use them to map to different locations at your event. This could be different stages, different halls, or even different venues, depending on the size of your event. When used with a map of your event, it helps your attendees navigate with ease.
While your tags and locations will vary according to your venue and content, we recommend always having a Networking tag and a Networking location for your meeting slots. This helps attendees filter the schedule to find the networking opportunities.
Tip! Did you know you can add your schedule in Brella to your event website? You can do it in under 5 minutes - learn how to here.
Once your schedule is complete, move to the next step: adding your sponsors.
Related articles