Create personalized discounts codes to use during the ticket purchasing process at your event using Stripe.
A great strategy to get registrants to your event is by promoting some discounts and other special pricing arrangements such as personalized codes. Quite often used for marketing purposes in events, and now this is possible using our ticketing and registration feature through a Stripe account.

Using Stripe allows you to create different ticket types that will automatically be linked to your
event when connecting the admin panel to the Stripe dashboard. You can either have free or paid tickets but also enable different discount codes, such as to promote:
Early-bird tickets
Marketing promotion
Group discounts, etc.
Create a discount coupon
Coupons are created directly from your Stripe event dashboard. In case of doubt, ensure that you are in the right dashboard; you can access it directly from the admin panel of your event in Brella by clicking the 'Stripe dashboard' hyperlink from the integrations tab.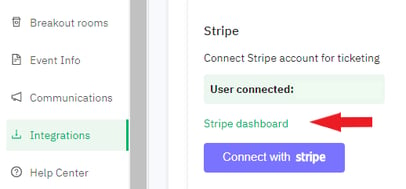 To create a coupon, follow the below steps:
Access your event dashboard in Stripe.
Click the button '+ Create a coupon

' if this is the first one, or the '

+New

' button at the top-right of the dashboard.

Name the coupon.
Select the discount type

:

Percentage: Meaning that X percent of the ticket value is discounted - 20%

Fixed amount: Meaning that X amount of money is discounted - 2€

Decide whether to 'Apply to specific products' (ticket type) for all.

For example, the discount will apply to all ticket types for Early-bird registrants.

Select the 'Duration' of the coupon.

Select the 'Redemption limits'. You can choose either one or both.

👉 Limit the date range: Here, you can set a date for the coupon to remain valid.




👉

Limit the total number of times: Here, you can define how many times the coupon can be used. For example, 200

If you enable the

'Codes'

section, it entitles you to create a custom code. On the contrary, the system will generate a random code automatically.

You can use any name/code of your preference and select the values that apply to that coupon:


Click 'Create coupon' at the bottom to save the information


Once your coupon becomes active, participants must input the code upon payment at your event registration page during the purchase process.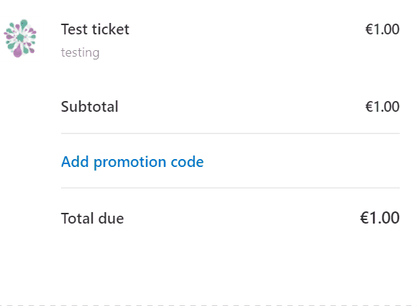 ---
Last updated in March 2022.
Written by Wendy Rendón

If it didn't answer your questions, please contact the Support Team here.

👇