From the sponsor admin panel (sponsor.brella.io), you can see your company's virtual booth traffic analytics.
Once the participants at the event start interacting within your virtual booth, such interactions will be recorded for every material/link added in the carousel section, as shown below: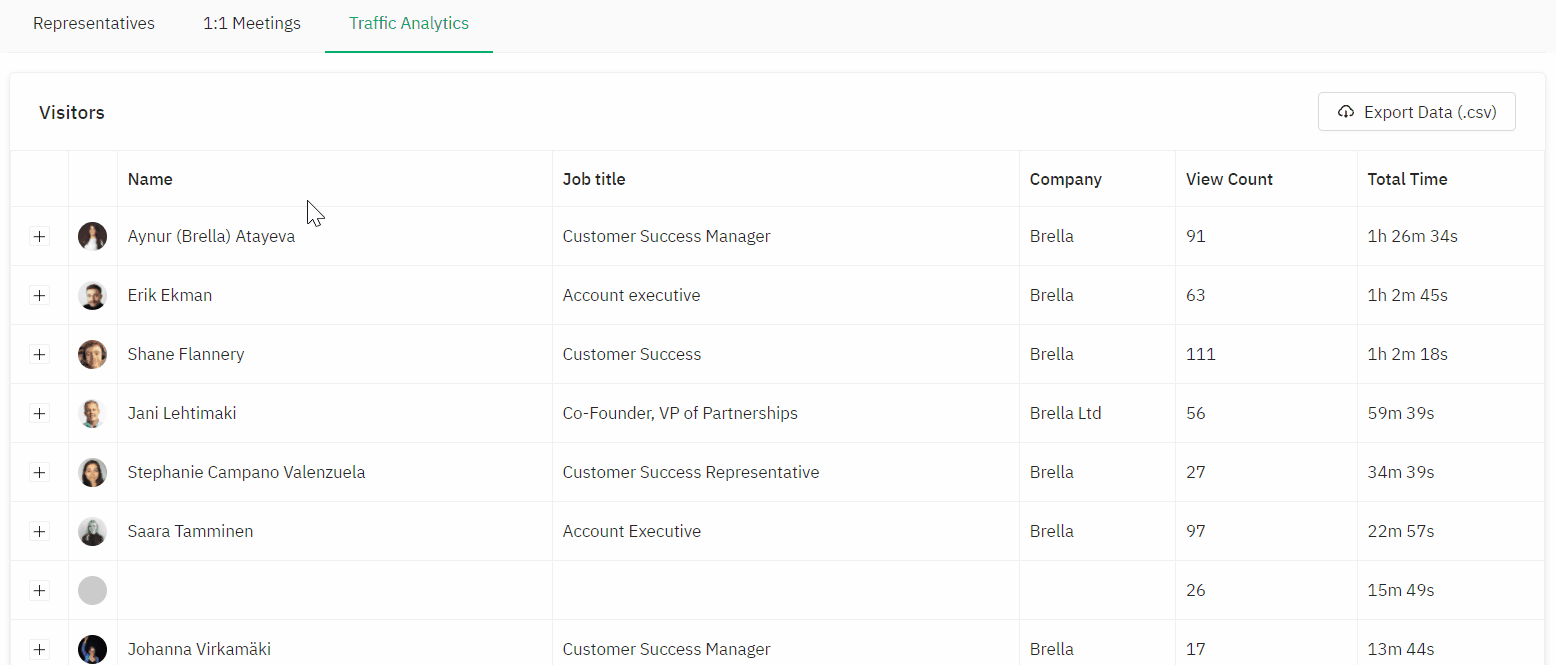 ⚡Important: If the traffic analytics tab is not available in your view, it might not be part of your sponsorship. Hence, address this matter with your event organizer if you'd like to get access to such data.
At a glance, traffic analytics is a powerful tool to help you understand the virtual booth's interactions and the most popular content. To do so, let's start from the basic definitions and tabs:
Visitors bar & Interaction list: By clicking the "+" sign, a list of viewed materials for that specific attendee will be displayed
Export Data (csv): You can get the whole traffic analytics report on your email by clicking this button. You'll receive a compressed file with all participants who visited your booth.
Page: This button allows you to visualize 20 to 100 visitors per page by clicking on top of it and changing back and forth the page number using the arrows on both sides.

Once you get familiar with the tab, below are two different articles to help you understand and analyze the booth insights for your event results.
❗Traffic analytics: Attendee interactions in the mobile app are not included in the traffic analytics report yet. It's coming soon.
🌟Tip: All data you can export from Brella's Admin Panel brings you excellent value to align with your goals. Hence, we highly recommend being proactive on the Brella web or mobile app as a participant; it'll bring valuable insights for your team and how this impacted your ROI.
---
Last updated in November 2021.
Written by Wendy Rendón

If you didn't find an answer to your questions, please contact the Support Team here.

👇