Track your booth's meetings statuses and representative activity to enhance your event results from the admin panel.
From the booth admin panel, you have the overview of your company's meetings and representative's activity in two different tabs:
⚡Note: By default, representatives and 1:1 meetings are accessible in the admin panel. If you would like to see who viewed/visited your booth, you need to request such access or report to the event organizer.
🙎‍♀️🙎‍♂️ Representatives
This tab gives you a comprehensive resume on how your team is performing for networking at the event, and as an admin, you can see the information breakdown and use the additional functionalities.

Representatives bar concepts:

By clicking the "Export (csv)" button, you'll get the file downloaded to your device.
The "Remove" option allows you to delete a person from the list of representatives on your booth.
Using the side arrows, you can move back and forth to search for representatives if your company booth has more than 20 peers.
⚡Note: To add representatives to your booth in case they haven't been added automatically by the system, please ask your event organizer or our technical support. To carry on this, the person must have joined the platform before being added to the booth manually.
🤝 Engagement - Total 1:1 Meetings And Open Chat Insights
Once you got familiar with the overview of the meeting on the Representatives tab, it's time to check more in-depth activity by going to the 1:1 Meetings tab.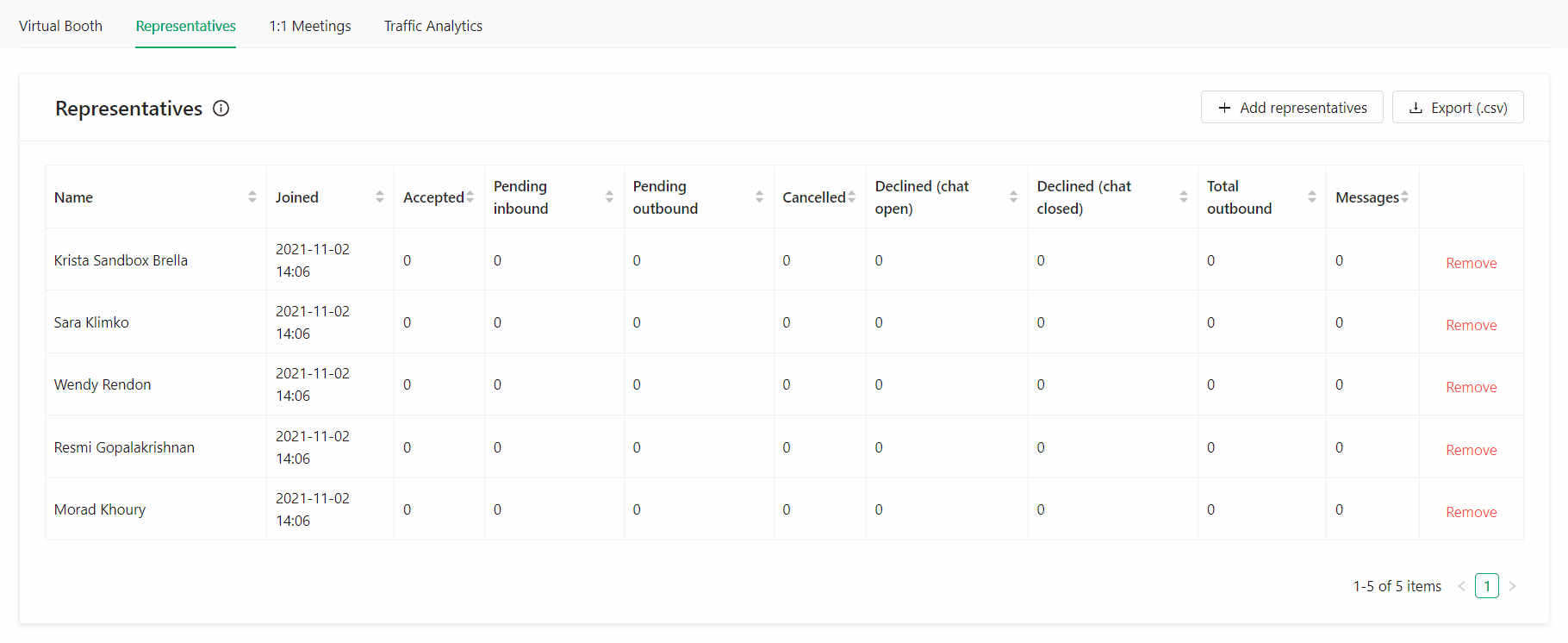 From this tab, you'll get the summary of the meeting, but this section's highlight is that you can view who's interviewing who.
Being able to check such information allows you as a sponsor admin and your team to avoid sending meeting requests twice to the same person from different representatives at your company.



Once your team starts networking, the information will break as follow:
Your company's representatives.
Prospects name, company, and title.
Date & time when the meeting happened.
Meeting status (Accepted, Declined, Pending, Only chat.
Place where the meeting took place.
Source of the meeting (Inbound or Outbound).
"Export .csv" button - by clicking this option you'll get a CSV file download on your device with the data from the table of 'Who-meet-who' as shown below.



Amount of chat messages exchanged.
---
Last updated in March 2022.
Written by Wendy Rendón

If you didn't find an answer to your questions, please contact the Support Team here.

👇