Sponsor Admin Panel: Prospects Tab
Learn how to navigate through prospects tab on your sponsor admin panel, when using QR contact scanning feature on Brella's mobile app.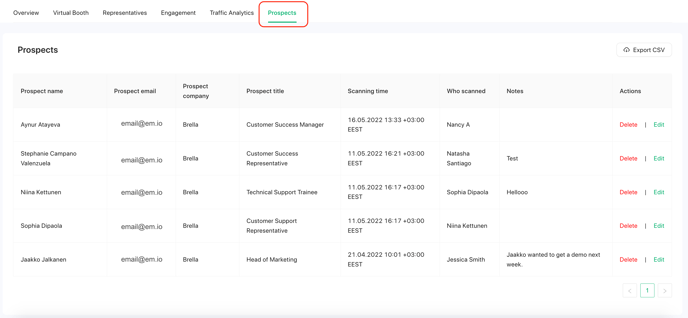 To be covered:
Intro
When using the QR lead scanning feature on mobile app, you would be able to store all scanned contacts by the team on your Sponsor Admin Panel. The list that could be available on both sponsor.brella.io and exported report will entail all necessary prospect credentials, and will allow you to follow up with them even post event.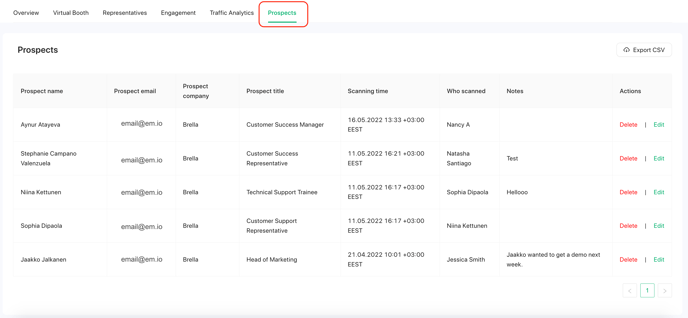 Navigate to sponsor.brella.io
Click on the event
Click on the prospects tab
All set! You are at the right place!
How to use
This board will be populated only if you scan and save contacts on mobile app - learn how here.
Once the contacts are created and saved on mobile app, you can either:

evaluate the list on sponsor.brella.io
or export the report with credentials by clicking on 'Export CSV' button on top right corner.
Note: This feature and board will be available for you only if enabled by your event organizer. If you do not have access to this on both mobile app and sponsor admin panel, make sure to reach out to your event organizer. Thank you!
---
Last updated on May 2022.
Written by Aynur Atayeva.

If you didn't find an answer to your questions, please contact the Support Team here.

👇