If you receive an error every time you try to access Brella to build your virtual booth, follow the instructions below to restart your session.
When encountering inconveniences to join the sponsor admin panel, try to identify the issue and follow the steps indicated.
What type of error do you see or encounter?
---
What type of error do you see or encounter?
❌ ISSUE 1: "Authentication required," "Email cannot be empty" or "Link expired"
If you see any of the errors mentioned above when creating an account for the first time, it means that your session expired; to fix this, scroll down to the bottom of the page and click on Cancel.
After that, restart the session by inputting your email and following the steps to create your account successfully.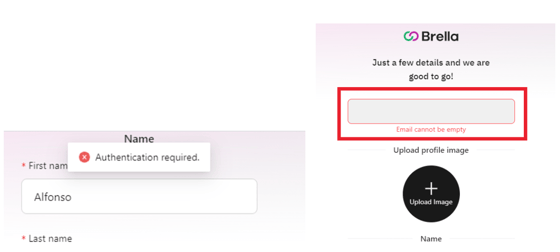 ❌ ISSUE 2: "Internal server error"
This type of issue is unusual and usually is related to robust corporate firewall setups. To help you further, we'd kindly ask you to allow list our domains on your computer.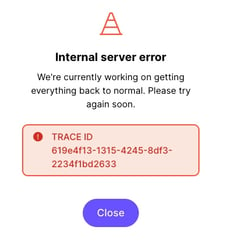 To allow list our domains, please follow the guidelines depending on these variables:
Which email did you use?
Enterprise or business-owned emails usually have corporate firewall/spam filters that

delay the login emails or block

Brella emails completely, unfortunately. In case you have this sort of issue, we recommend you contact your IT team and request to allow list our domains *@brella.io and *@trymagic.com.

Public email domains (such as @gmail.com, @yahoo.com)*, add the bellow to your email contacts list, then re-request a login email if needed noreply@brella.io

and

noreply@trymagic.com.
Which browser are you using?
Brella works excellent on all modern browsers such as Google Chrome, Mozilla Firefox, Safari, Edge, and the Brella mobile app. However,
it works best with Google Chrome.
Web app: next.brella.io.
Mobile app: Downloadable in App Store and Google Play Store. Brella is also available as a mobile app for both iOS and Android. The only requirement is that you must have at least Android 6.0 or iOS 9.0.
What type of device are you using? (work- or personal laptop or mobile)
If it's a company device and network (pc/laptop and internet connexion), ask your company's IT team to allowlist our domain:
If it's a personal device and network (such as own computer or home internet connexion), we suggest editing the browser settings to allow Brella, preferably using Google Chrome:

Click the three horizontal lines icon on the far right of the Address bar. 👇

Click on Settings, scroll to the bottom and click the Show Advanced Settings link.
Click on Change proxy settings.
Click the Security tab > Trusted Sites icon, then click Sites.
Enter the URL of your Trusted Site, then click Add.
Click Close > OK.
Do you have VPNs, Adblockers, or Autofill extensions in use?

Suppose the above steps did not fix the access issues on your laptop. In that case, this could be due to more complex firewall setups, and we do not encourage any participant to deactivate such settings on your personal device or network. It could put at risk your device and data.
Recommended Operating Systems to use Brella:
Apple macOS, Microsoft Windows, and Google's Android OS.
---
A workaround is to opt for a personal device
While your IT team can list our domains, we invite you to create your account and access the event through a personal device.
---
How to screenshot your developer console to help your further
Having a view of your developer console history, it'd help us pinpoint the issue faster. Please share your developer console view by following these steps:
Visit sponsor.brella.io, try to login again using Chrome. (from a computer rather than a phone)
Open up the developer console (right-click the screen --> click "inspect" --> click the "console" tab.
Attempt to log in with your email.
Assuming the error occurs right away, "Internal server error," we'd like to see a screenshot of any errors from the developer console (example screenshot below)

(This step would be nice to have if it's not asking too much) Again, if the error occurs, navigate to the Network tab and click any red lines indicating errors --> share a screenshot of the Headers and Preview sections (example screenshot below).


---
Last updated on November 2021.
Written by Stephanie Campano Valenzuela.

If you didn't find an answer to your questions, please get in touch with the Support Team here.