Learn how to make the most of the virtual booths, tips, and examples for adding materials & other uses of this tool.
Content
💡Sponsor's journey at a Brella event
📧 How to share the materials & links for your booth
🎯 How Sponsors can make the most of the booths
💎 What makes a great virtual booth at Brella?
🧩 Other uses for Virtual Booths
Being part of an event planning is very exciting, and the virtual booths can play a key role to attract and engage your targeted audience 🔑. Watch here what it means to be a Sponsor, Partner, Collaborator or you name it to use such booths for your own event's brand visibility in Brella and learn from the below content how to make the best out of it.
Sponsor's journey at a Brella event
Below we compiled what you should focus on per event stage.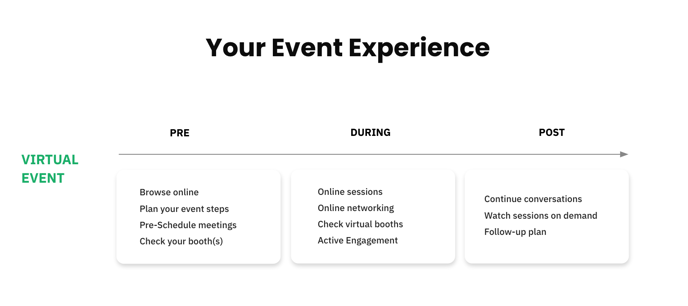 How to share the materials & links for your booth
As easy as filling up a form, you can add the required information for your company's profile and send it over to your organizer via their preferred method. For more detailed information, reach out to your event organizer.
👉 You can use our ready-made template and follow these steps.
👉 For Sponsor Admins: Start here
How Sponsors can make the most of the booths?
Check the below list of tips to make your company's virtual booth outstand:
Know what to expect at the event and your audience.
Get to know the platform and its features in advance to know how could you place your booth and other materials.
Understand your sponsorship package and what you can do to make the most out of it.
Add a human touch component, for example: hosting a product/service Q&A or an educational session that provides value to your visitors (live/pre-recorded or by chat).
Include resources that give a clear image of your product/service.
Add surveys & polls to boost engagement.
Get creative: Prizes, giveaways, and discounts as an incentive to engage with your booth.
Create brand awareness and add your social media feed.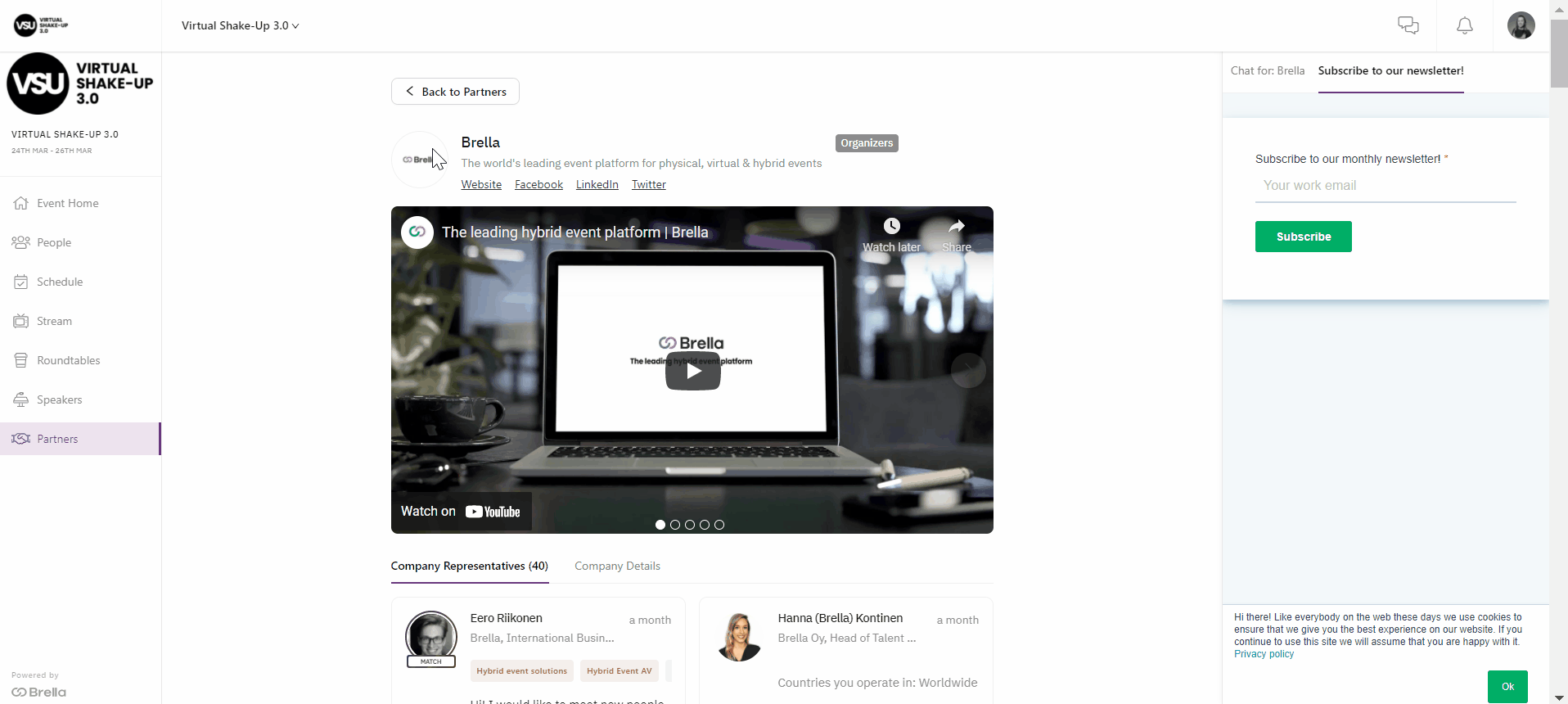 What makes a great virtual booth at Brella?
This is a question that would be great to have a single answer for however, a virtual booth is just like an actual booth on the venue. Each company needs to plan and think strategically about how to outreach individuals and potential prospects depending on your marketing goals.
We have plenty of tips and how-tos tutorials on how to make the most of a Brella virtual booth.
If your main goal is to create brand awareness, then you need to entice them to visit your virtual booth and incentivize them to click through your visual content, links, or subscribe to your marketing mailing. You can always add incentives to draw attention to your booth.
If your main goal is to generate leads, then representatives need to plan strategically how to contact attendees, how to follow up, how to drive traffic to the booth, and how to ensure visitors understand what your service or product solves. You can also have live streaming sessions inside the booth.
These are just a few options but creativeness is the limit. If you need a few ideas and inspiration, contact us. We're more than happy to help!
Other uses for Virtual Booths
Not all events have the same approach, meaning that sponsorship is not as relevant as for events that require ROI. In this case, virtual booths are a great tool to use as well for different purposes.
Our booths used iframe technology that enables the integration of public links and materials but also broadcast content (live & pre-recorded).
Check below what else you can display on the virtual booths:
🌟 For all events - As an event's Help Desk to respond to on-site requests with a quicker response.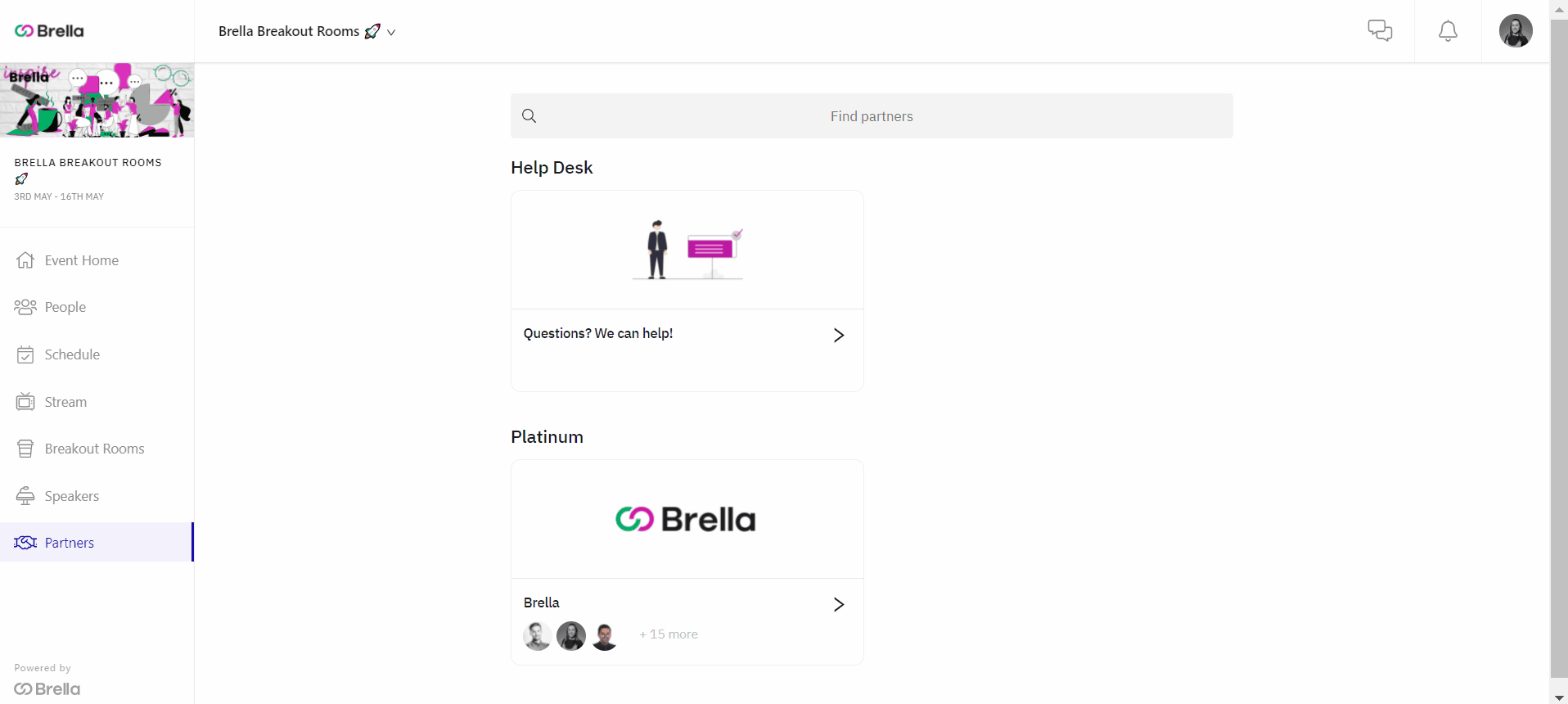 📚 Educational events - used as panel/poster to make presentations by topics

🧲 Recruitment process - hiring companies can set up open sessions & company's presentations & ⏲ Hackathons

- used to present challenges or topics
🌟For best practices as a Sponsor Representative, visit this article.
Sponsors' booths are also visible for all participants in the Web 💻 and Mobile 📲 versions. Visit this article to check on how to start setting up the booths.
---
Last updated in November 2021.
Written by Wendy Rendón

If you didn't find an answer to your questions, please contact the Support Team here.

👇