Welcome to Brella! Find more about what you get, what you can do, and get the best practices on how to use the virtual booths.
The virtual booths include plenty of components that will help you smartly design your content.
The booths are available on the web and mobile app.
A virtual booth has three different components:
Each component is independent and can be used or left out depending on your package. Each component is explained in more depth below, and if any questions, please reach out to the Organizers.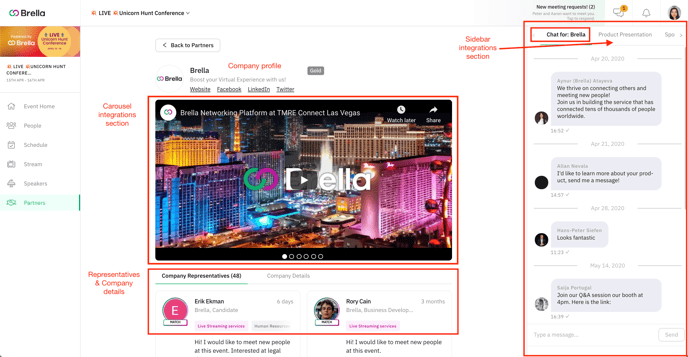 ---
1. Profile
You have the opportunity to showcase and display your brand as much as possible. You have a sort of possibilities such as:
Add your logo
Add a banner
Slogan
Social media links
2. Carousel & Sidebar integrations
In the carousel and sidebar integrations sections, you can add all kinds of embeddable such videos, brochures, images, surveys, and even live showcases on your booth to all participants.
For specific details on how to and what you can add elements to both integration sections, please direct to the links below:
To deliver your content, you do it with a template the organizers shared with you, or simply follow the steps given in this article.
3. Chat
If you have a chat, representatives can easily interact with visitors 24/7 and answer their questions as quickly as possible. In addition, each sponsor has its own independent chat, and you can decide whether to offer that to sponsorship packages or only for a few ones as an organizer.
☝️Currently, chats are not being stored in Brella. However, you'll always be able to see the last 100 messages sent in the chat.
For further details on how this functionality works and enables it, visit this article: Virtual booths: Managing the Chat both on the web and mobile app.
💡Tip: You can use People Filters to pinpoint who is looking for your product/service or is interested in the same topics as you do.
💻 Web app view


📱Mobile app view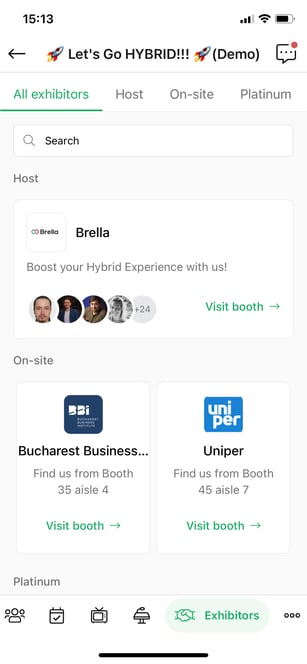 .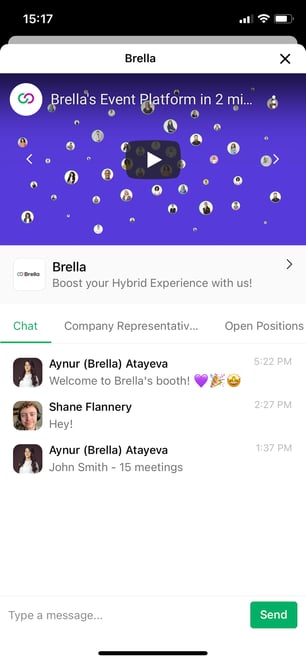 4. Booth traffic analytics
You can get detailed information on who visited the booth, how many chats and meetings representatives have during the event, and more. Enlisted find the details of each export:
Chat (Last 100 messages of your chat booth)
---
Last updated in November 2021.
Written by Wendy Rendón

If you didn't find an answer to your questions, please contact the Support Team here.

👇