Go to sponsor.brella.io on your browser and access the admin panel using your Brella account email to start building your virtual booth.
Now you can build your company's virtual booth at the event you're sponsoring or showcasing using the brand new admin panel for Sponsors & Booths.
On this panel, you'll have the chance to be creative and add the most relevant information or targeted content to attract event participants to the booth and boost leads.
Content:
---
🚀 Access the Sponsor's admin panel following the below steps:
Go to sponsor.brella.io
Input your email (the same as when creating the Brella account)
Follow the steps for email authentication with Magic Link. You'll receive an email in your inbox, open it and click on the Login green button. Then, you'll be directed to sponsor.brella.io through another window.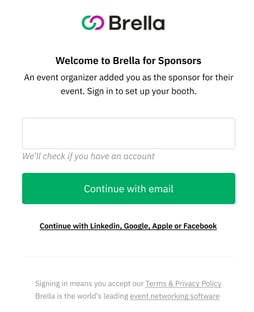 🚨Note! If you are having issues logging in, please visit this article.
📺 Home page
After joining the platform for sponsors only, you'll land on the main page of the admin panel. Here you'll see the list of the events to which you have admin rights for your virtual booths.
Get familiar with the different elements:
Search bar: Type the event name for a quicker search
Show past events: When clicked, shows events that are over
Date: This reflects the event date and duration days
Event: The event name given by the organizer
# Page: You can select how many events per page to display
Help icon: Click to get articles suggestions to build up your virtual booth
Log out.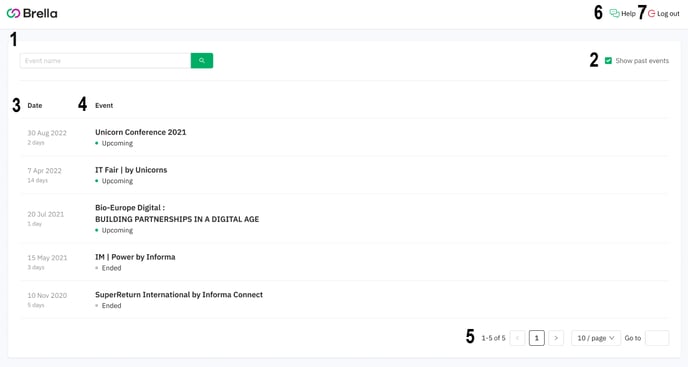 👩‍💻 Virtual Booth
Different content parts define your virtual booth, and here is where you can add your company's videos, images, presentations, website links, forms, and any other materials; always following our file format for booths as embed links.
The booth details are composed of a left panel Booth details to add the information and a Preview booth panel on the right side. This way, you instantly see how your booth looks like and spot any error right away.
In the booth details, you can add:
- Company name
- Subtitle
- Logo
- Industry
- Website
- Facebook
- LinkedIn
- Twitter handle
- Description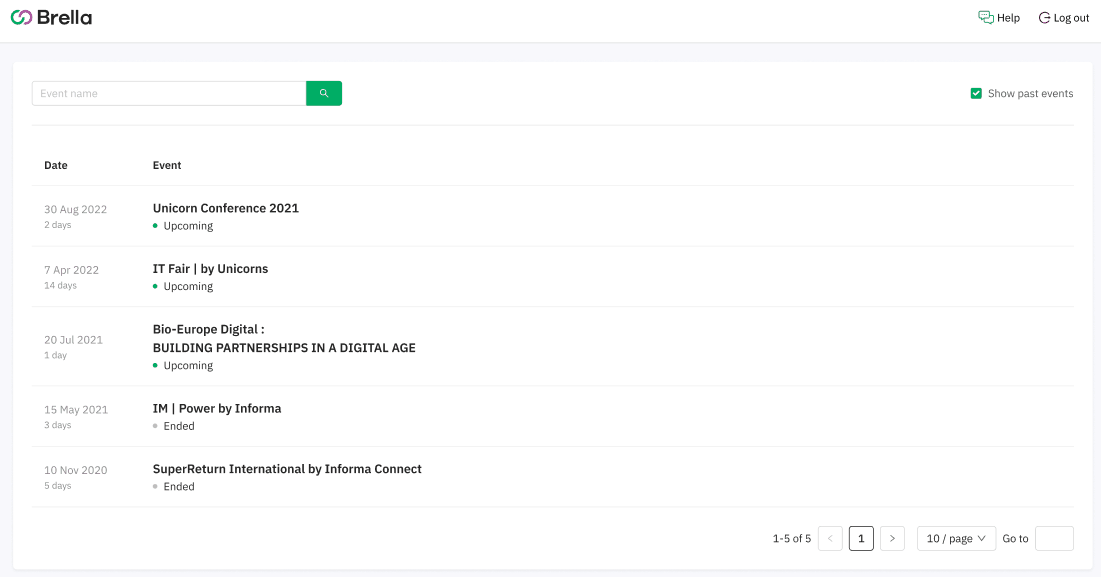 👉 In the lower bars, you'll find the 'Carousel deck' & 'Sidebar Integrations.' These two are designed to contain your videos, images, presentations' slides, websites, and any other files in an embed format.

👉 Once have you added the details and materials; the attendees will see your company's booth as in the example below: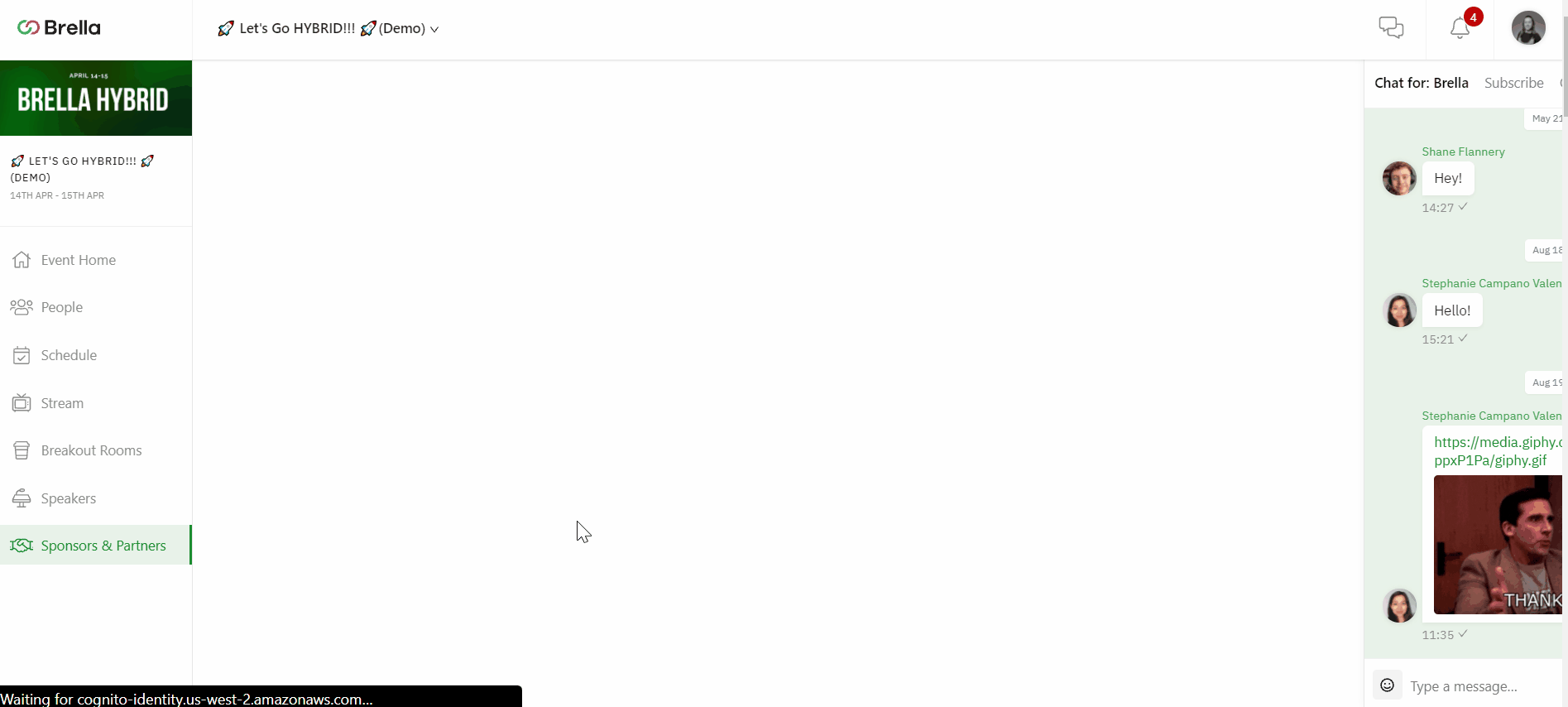 📊 Data & Reports
Another relevant part of your sponsor admin panel is the data and reports found in the subtabs of your virtual booth. Here you can view other company representatives, your team's 1:1 meetings, "who-meet-who," and booth traffic analytics.

👉 Representatives
As a Sponsor Admin of your company booth, you have access to the representatives' report, which shows anyone from your company who's attending the same event. This report also gives an overview of their meetings' statuses (Accepted, Pending inbound, Pending Outbound, Cancelled, Declined).
You can add representatives and remove them from the admin panel. Another option, relevant during and post-event, is the possibility of exporting such a report using the Export (csv) button sent to your email.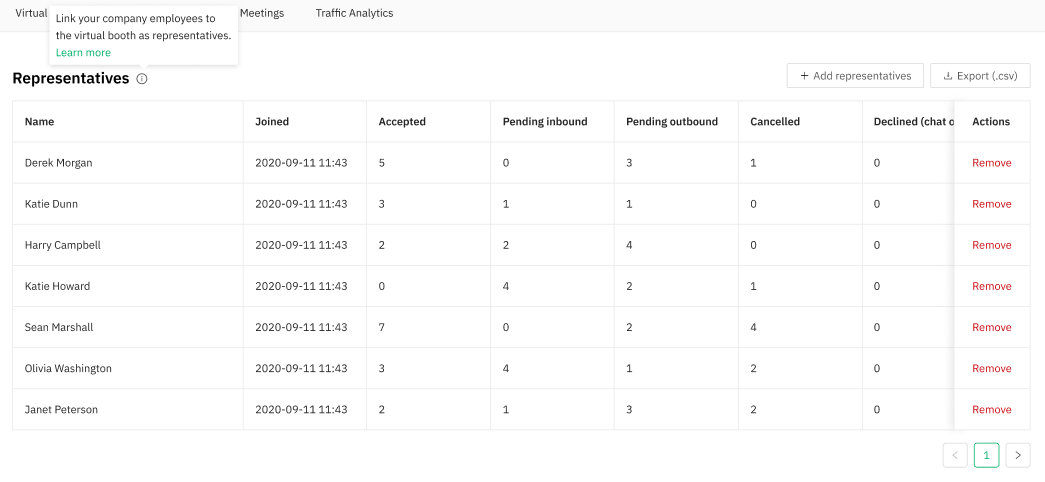 👉 1:1 meetings
The 1:1 meetings overview gives you insights into the meeting's summary but also "who-meet-who" at the event of your list of representatives. This way, you can keep track of the meetings and avoid contacting the same person twice. 👍
Same as the preview overview for representatives, you can export this data to your email by clicking the Export (csv) button.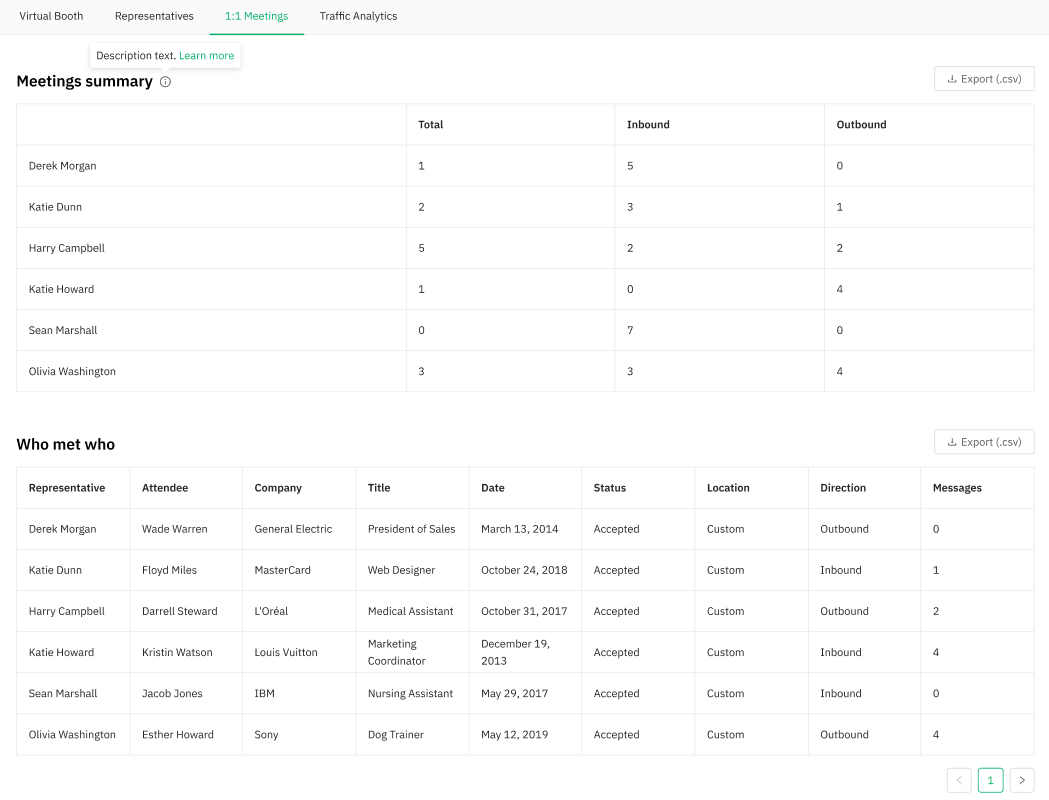 👉 Traffic Analytics
From this tab, you'll be able to see who visited and interacted with your virtual booth. Keep in mind that your event organizer must enable this option for your booth to access such data.
❗Important: To view the Traffic Analytics, please address this matter to your event organizer if you'd like to get access to this report.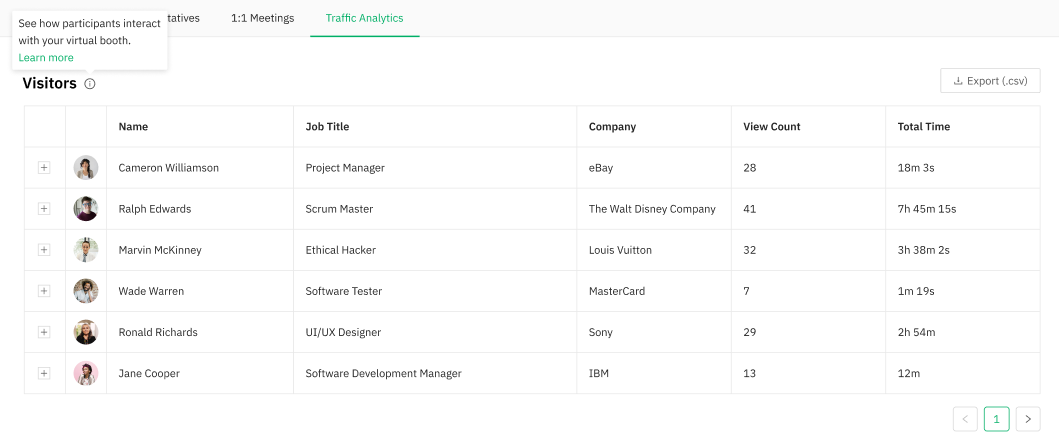 Brella tracks participants' interactions (views only) in a booth that contains at least one item in the carousel section. (ADD HYPERLINK TO NEW ARTICLE) before and during the event.
If you wish to understand who visited your booth during the event, you need to export the traffic data and analyze participants' interactions per date and time.
☝️Sidebar integrations and Attendee mobile activity are not included in the traffic analytics report yet. It's coming soon!
---
Last updated in November 2021.
Written by Wendy Rendón

If you didn't find an answer to your questions, get in touch with the Support Team here.

👇