This article will guide you to create your Brella account, and edit it later on.
🎟️ Your Brella account is your ticket to a great event and networking experience. 🎟️
You only need one account for all events using Brella, so please always use the same login to keep your events and meetings safely in one place. 😎
Content
Note: If you need to edit your interests, introduce, or go through the registration process, go to your profile.
Create your account
Go to next.brella.io or open the join link that the event organizer has sent you.
Type in the email address you'd like to sign up with, and select Continue with email. Remember that this will be your Brella account in the future, so choose an email that you actively use!


After clicking on Continue with email, you'll get advice to Check your email. Do not close this tab! ❌ Instead, keep it open and open your email inbox.


When you open your inbox, open an unread email from Brella and confirm the sign-up by clicking the link/button.


Go back to the original tab that you left open earlier. Finalize your profile by uploading your profile picture and typing in your name, title, company, and other information you see fit.
Ta-dah! You're in 👏 When you log in back to your account in the future, and the process will be the same - you don't create a password 🙂! Instead, you'll always log in by typing in your email address on the login page. Then, open your email, 👉Confirm & open Brella by opening the link in the email you received ✅ Easy & safe!

👍Your account will be refreshed every 15 days.
💡You can also create your account by authenticating through one of your social media accounts. To do so, click on Continue with LinkedIn, Google, Apple, or Facebook.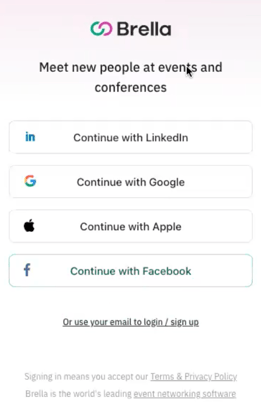 Updating my account info
From your account, you can manage your personal details and:
Add title & company information.
Add profile picture
Select your time & date preferences
Enable/disable notifications

You can change your account details from either the:
On the web app
Log in at next.brella.io.
Move your cursor to your profile picture in the top right.
Click Settings.
Now you can edit your account details.


Select Save Changes at the bottom.
Your account is updated.
On the mobile app - Option One
Log in to the mobile app with your Brella credentials.
Click on the account icon with your picture in the top left corner (press the back arrow until you see it).


Edit your information.
Press "Save Changes" at the bottom.
Your account is updated.
On the mobile app - Option Two
Select an event from the main landing.
Select "More" from your event page in the bottom-left.


Select "Edit your profile."
Select "Edit my account information."


Change your information.
Select "Save Changes" from the bottom.
Your account is updated.




---
Last updated on July 2021.
Written by Nita Kumpu.

If you didn't find an answer to your questions, please get in touch with the Support Team here.
👇