📖 Networking: 1-1 Meetings & Chat
Where can I find my 1:1 meeting as a virtual attendee?
Go to your Messages and click on the conversation of your choice and click on the video call icon either on the mobile or web app (next.brella.io).
When requesting or accepting a virtual meeting in Brella, you can connect through the Brella virtual meeting room in the Messages inbox.
👉 Find your Brella virtual meeting room when clicking on the video icon on the right upper side of the meeting request.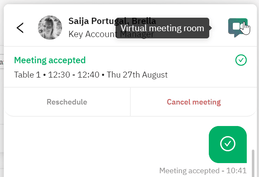 👉 Then, the virtual meeting room will open, showing a few functions that come in handy when having the meeting. When clicking on the video icon, you will not call your match, but you will only open the virtual meeting room. On the right side, find the chat, and on the bottom right corner, there is a link that allows you to invite others to your Brella meeting room.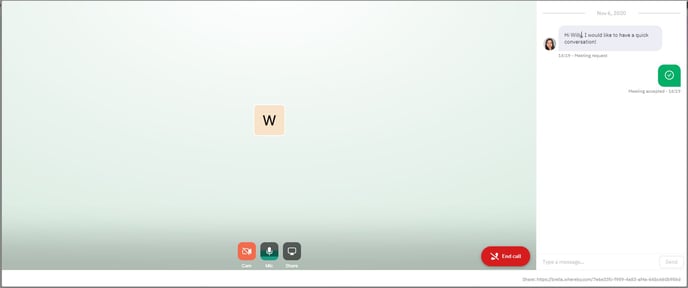 👉 Ensure your microphone and video are enabled, and you are ready to start e-networking! Last but not least, be on time! - You will receive a push notification reminder 5 minutes before each meeting. Therefore, we recommend enabling notifications in your account settings three days before the event.

💡 Tip: Brella works best in Chrome; you will be able to use video, audio, and screen sharing.
---
Last updated on February 2022.
Written by Nita Kumpu.

If you didn't find an answer to your questions, get in touch with the Support Team here.
👇