📖 Web App | next.brella.io
Web App: Create your own event agenda with Bookmarks
Learn how to create your own agenda by bookmarking content sessions from the "Event" tab.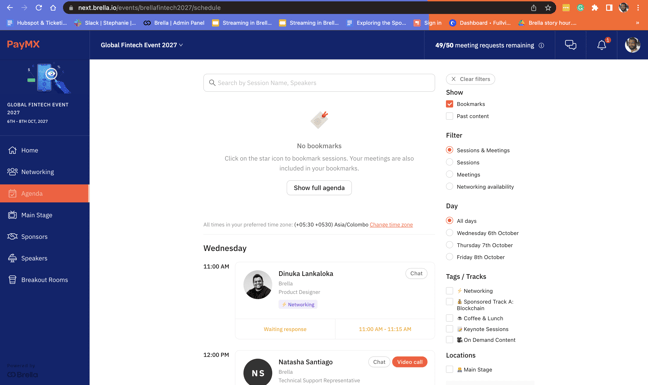 To be covered
Intro
While deciding which sessions you would like to attend at the event and what time you would rather spend on networking sessions, the solution for you would be to build your schedule on Brella by using bookmarks.
If you want to have specific content sessions like Keynote, Panel Discussions, and Fireside chats to be in one place, make your own schedule with bookmarks!
On the web app
You can bookmark your favorite sessions by going to the Schedule and tapping on the Bookmark sign 🔖 on the right corner of the session card. Once it gets highlighted you can Bookmark the sessions you need.
Once you are ready, you can see your personalized agenda by clicking on Bookmarks under Show.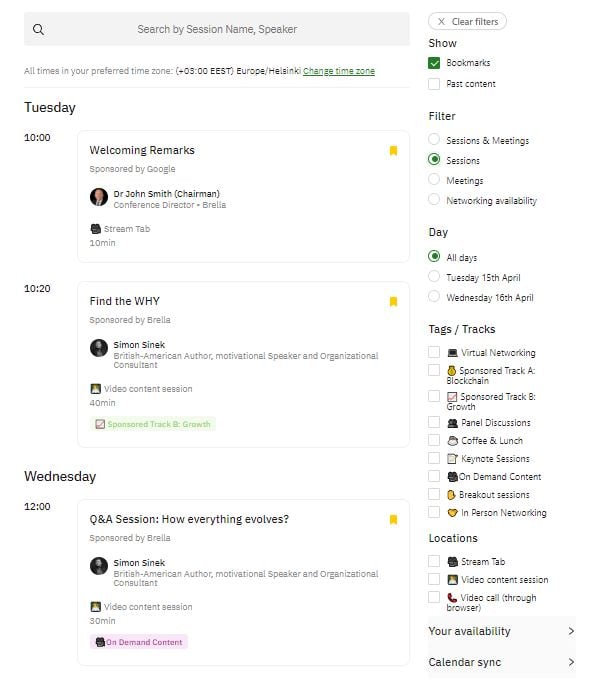 👉 Tip: You can also bookmark and save sessions to your own schedule from the Speakers tab by clicking on your favorite speakers and seeing what time and what sessions they will be presenting.
Great job! Now you can successfully create your own event agenda with bookmarks.
---
Last updated in March 2023.

Written by Yusra Mohideen
If you didn't find an answer to your questions, please contact the Support Team here.
👇