📖 Mobile App | Android & iOS
Mobile App: Set networking availability
Learn how to change the number of meeting requests and educational sessions

Mobile app (Apple & Android)
Go to the app.
Tap on the Agenda page.
Select Availability. There you can set your availability per day and per timeslot.
Please select the time slots you want to block by toggling them off one by one. Or, if you want to block all time slots, then toggle off the button "Disable networking for all the available slots in the day."
After deactivating the time slots selected, you will see that the slots are marked as "I'm unavailable for requests," in grey color.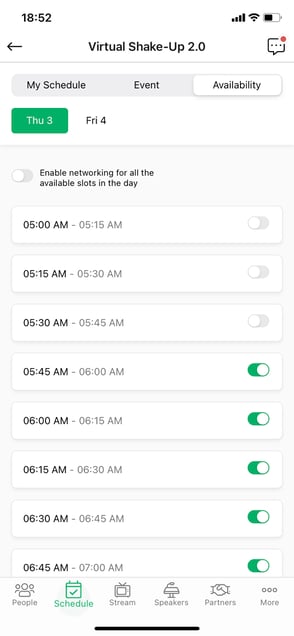 Great job! Now you can successfully change your networking availability on Brella.
---
Last updated on July 2022.
Written by Rajinda Wijetunge.

If you didn't find an answer to your questions, please contact the Support Team here.
👇