📖 Using Brella For The First Time
Notifications: How do I get notified about meeting and chat requests?
You will always get notifications of all meeting and conversation actions (new chat and meeting requests, cancellations, etc.) to the email you used to create your profile and on your Brella app.
Content
💡Tip! Enable notifications a few days before and during the event. So you don't miss any updates on your meetings or chats.
---
Meeting notification
👉 Web app: On the top-right side of the event Home Page notifications of your pc/laptop screen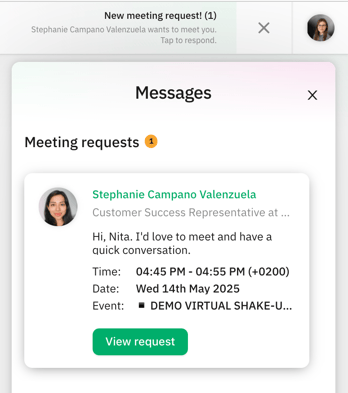 👉 Mobile app: Click on the top-right message icon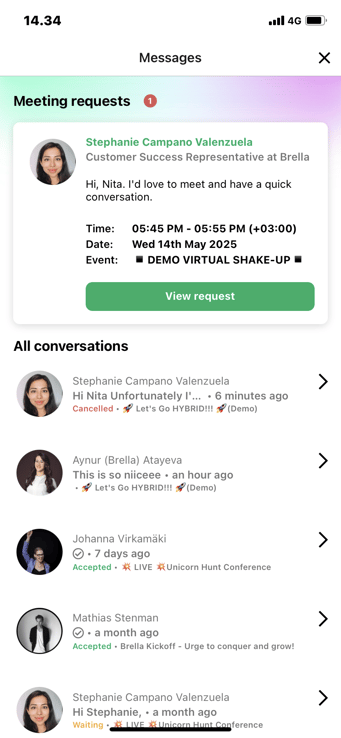 Chat notification
Notifications of new chat messages will fall under 'Messages' in the same way the meeting request will. You will only receive the notification for the first message once, and you can then review if you wish to respond to the chat. More information here: Chat without suggesting meeting.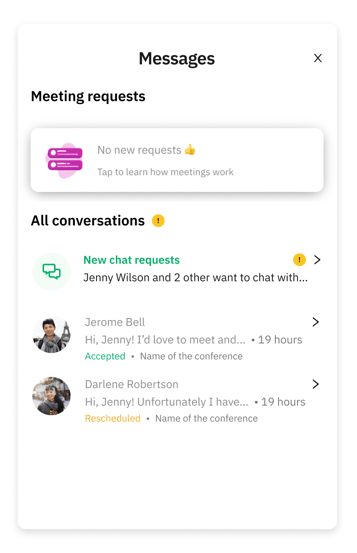 ---
Last updated on October 2021.
Written by Nita Kumpu.

If you didn't find an answer to your questions, please contact the Support Team here.
👇