Access your Brella meetings on the web version on your mobile phone using an internet browser to have an e-networking experience.
The Brella platform offers you the option to use it on different devices, i.e., Web app and Mobile app. So if you would like to use your phone to have your Brella meetings, this is possible while using any of the most modern internet browsers on your mobile device.
This will allow you to have your meetings on the go or in case you cannot use the web version on pc/laptop.
👉 Steps to open your virtual meetings: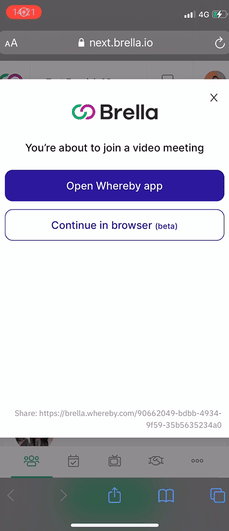 Using your phone (Android 6.0 or iOS 9.0 or newer version).
Open the browser Google Chrome or Safari and type in the search bar next.brella.io.
Log in by inputting your credentials (Sign-in method and password) to Brella.
Select the event you're attending.
Go to the Messages icon on the top of the screen and select any meeting previously arranged.
Click on the camera icon on the top-right corner (This is a pre-test, it won't alert the other person you have started the meeting).
Allow the camera and microphone if the system asks you to do.
Close the video call by pressing the "X" on the right-top corner once you are done with the call.
❗ Note: Other features and functionalities are limited in the mobile app version, such as open chats, sidebar integrations, virtual booths, and Livestream. Its capabilities will depend on the Livestream provider the event organizer uses.
---
Last updated on May 2021.
Written by Nita Kumpu.

If you didn't find an answer to your questions, please contact the Support Team here.
👇