There are two places on Brella where you can input your personal information: 'Your Account' and 'Your Profile'.
🎯 What is the difference between account and profile?

You have one Brella account that will contain your personal information for all events, while you can customize your Brella profile for the specific event you are attending.
Essentially, your account's information has your personal information that does not change per event, but your profile is different for each event you attend.

Understand in more detail the difference and how you can edit these:
Your account
Your account will display this information in all the events you are joining.
You add your info such as email, name, company's name, title, social media profiles, and company's info. So you can think of it as your permanent personal info that can be changed at any time.
You can always access your event account from the top right corner of the web App at next.brella.io.

From your account, you can:
Edit your Account details such as profile photo and cover photo that are applied to all events.
Edit your Personal information such as Name, Last Name, Company, Title, Social Media links.
Edit your Company details.
Edit your Country of operations.

For detailed guides on how to update these, go here

.
Your profile
Your profile is unique to the event you're attending. Each event profile will be different, but it uses your account to prefill the information, like your name, company, etc.
You can create an introduction, choose the relevant interests & goals for the given event, and edit it anytime you want.
👉 Access your profile settings from the right top corner of the Event Home page.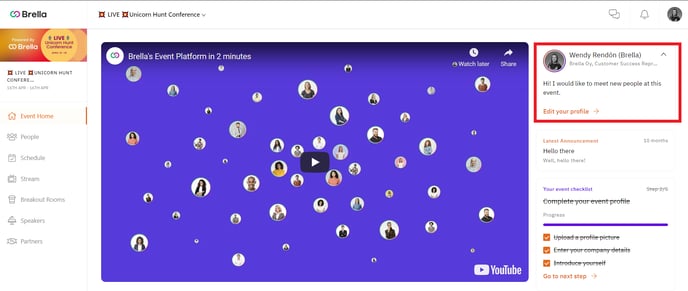 From your profile, you can:
Edit the interests that you chose during the registration process.
Edit your introduction text which helps you find relevant connections.
Restart the joining process to the event again, where you can change your attendance type, availability, thematic interests, and intro.

For detailed guides on how to update these details go here

.
---
Last updated on October 2021.
Written by Nita Kumpu.

If you didn'tid'ind an answer to your questions, please contact the Support Team here.
👇