You can see the total number of meetings attendees had during the event in the overview tab.
In the Overview tab, you can find valuable analytics about your attendees' engagement. This section is dedicated to attendees' total meetings during the event and attendee activity in the last seven days.

Below find definitions for each metric under the Attendees graph.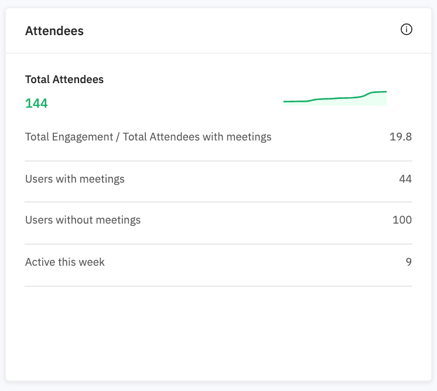 Total attendees: show the total number of attendees registered in the Brella platform.
Total Engagement/Total Attendees with meetings: the average number of meeting requests divided by the total number of users with meetings.
Users with meetings: show the number of users with at least 1 accepted meeting.
Users without meetings: show the number of users without meetings in Brella. If this number is high (i.e., one week before your event), it may be beneficial to send reminder emails to your attendees, so they remember book meetings.
Active this week: shows the number of people using the app this week ( 7 days).
---
Last updated on April 2021.
Written by Stephanie Campano Valenzuela.

If you didn't find an answer to your questions, please contact the Support Team here.

👇