An authentication email expires after 20 mins. If your email expires, request a new email by going to the Brella platform.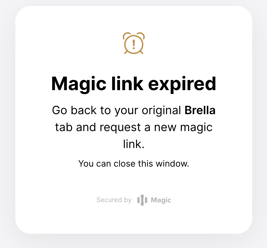 How to request a new authentication email (magic link)?
Go to the Brella platform (next.brella.io, manager.brella.io, or sponsor.brella.io) and input your email.
Then go to your email inbox, open the Login email.


Click on the login to Brella, and you'll be redirected to Brella.


If you don't have a Brella account, Brella will ask you to create an account to access the platform. Please follow the steps as needed.
❗Note!
If after filling in your details you see an error message such as Authentication required, Email cannot be empty, Link expired, or User Access Denied, please CLICK CANCEL and RESTART your session.
For details, go to this article and follow the resolution steps. I cannot access Brella; what should I do?
🚨If you don't receive authentication emails, it might be due to a strict corporate firewall that is blocking our emails, unfortunately. To resolve this issue, we suggest you to allowlist our domains to your browser:
Enterprise or business-owned emails usually have corporate firewall/spam filters that delay the login emails or block Brella emails completely, unfortunately. In case you have this sort of issue, we recommend you

contact your IT team

and request to list our domains *@brella.io and *@trymagic.com.

Public email domains (such as @gmail.com, @yahoo.com)*, add the bellow to your email contacts list, then re-request a login email if needed noreply@brella.io and noreply@trymagic.com.
---
Last updated on December 2021.
Written by Stephanie Campano Valenzuela.

If you didn't find an answer to your questions, please contact the Support Team here.

👇