Evmux in-built studio offers a wide variety of features, with which you can create engaging and unique live streams, webinars and videos for your event. Learn about the features Evmux has, and what are the requirements for using Evmux in your event.
To be covered
Intro to Evmux features 📹
Evmux offers multiple helpful features that can help create value streams for your event on Brella. Under here are listed the features that Evmux offers in Brella. To learn more on Evmux feature, check on their YouTube channel.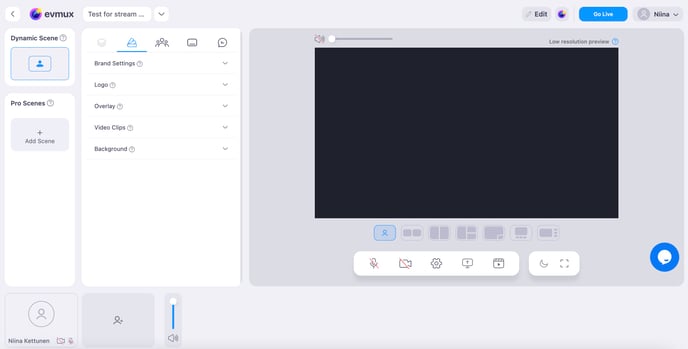 Features 📽️
Unlimited streaming hours

There is no limit to how long you can stream live content through Evmux in Brella


Pro-scene Builder

Fully customized scenes can be created ahead of time through an easy drag and drop editor. These can be used during broadcasting to have a smooth transition.


Push to talk

With the internal chat, the host can speak to the other guests without the audience knowing. Learn more on Push to talk
Multistreaming

Streaming can be done from up to 5 destinations at the same time


HD Video Streaming
Streaming and recording in high quality are supported
Recording and downloading are easy, and you can access the recording on your Evmux dashboard even after the event.
You can create your own unique banners, branded overlays, backgrounds, and logos for your Evmux broadcast. Learn more here
Screen share during the broadcast between the host and participants
The host and the guests can share their screens during the live stream as well
Evmux limitations
Only Up to 12 on-screen participants are supported at a time
You can have up to 12 participants at once in the stream and you can swap guests on and off stage any time
Video annotations or translations are not available
At the moment, Evmux doesn't support video annotations or translations in any language
Multi-camera feed is not supported
You can only broadcast with one camera at the time
Requirements to use Evmux
🚀 Evmux is a feature flag in Brella; it needs to be added to your contract to utilize in your event.
---
Last updated in June 2022.

Written by Niina Kettunen
If you didn't find an answer to your questions, please get in touch with the Support Team here.

👇