Engagement & new attendees metrics show how actively your attendees are joining & interacting in Brella over time.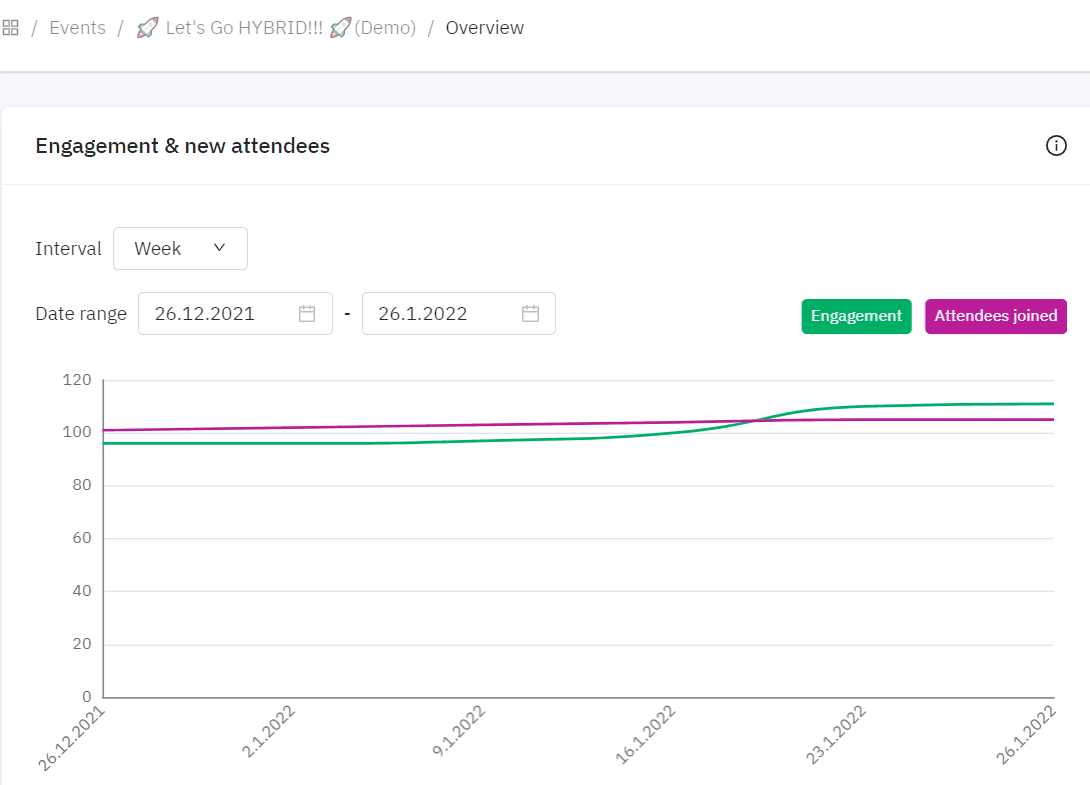 👉 Explanation:
The engagement & new attendees chart shows at what point there was a high or low attendee registration volume and total engagement simultaneously.
As default, the timeline will start once the event is created until the last event date specified on the Admin Panel, nevertheless, you can set a different time range per day, week, or month if necessary to visualize the data in sections using the 'Interval' and 'Date range' filters at the top-left of the graph.
The green trend line shows the total engagement at a certain point of the event.
The bright pink trend line shows the total of attendees who have joined the event so far.
👉 Example: Analysis of the trendline chart
In the graph above, you can see that the engagement line is above the number of attendees who joined the event. This is normal as the sum of engagement actions increases as the event progresses.
Most of the attendees join closer to the event day, so a graph like the above is common where attendees joined ten days before the first day of the event while the engagement line picks up one day before the actual start date of the event (25.11.2020).
Confirming that attendees join the platform to explore and get acquainted with the platform.
You can also choose different views and select times Month, Week, Day to see the graph from the whole event or only a specific part.
---
Last updated on January 2022.
Written by Stephanie Campano Valenzuela.

If you didn't find an answer to your questions, please contact the Support Team here.

👇