This article will explain all you need to know about the Sponsor Ads functionality. It is a great tool to boost your sponsors' engagement and visibility in your event.

Content
---
1. What are Sponsor Ads?
Sponsors ads are a feature in Brella which allows you to promote the sponsors at your event on the Event home page and the 'People' page of Brella. Sponsor advertisements are an excellent tool for boosting sponsor presence and helping them get even more meetings in the Event.
The sponsor ad will work as a pathway to the virtual booth on the Event home page, with the sponsor name, logo, and introduction.
The ad looks similar to an attendee profile, with an introduction and an option to suggest a meeting. For example, when attendees select "Suggest Meeting," the platform will take the attendee to the sponsor's booth to see the sponsors' representatives and read more information about the company.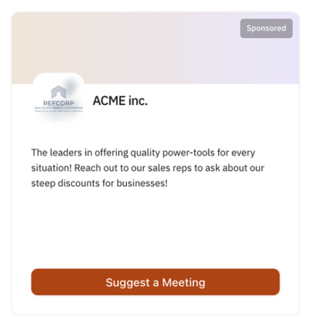 2. Where are Sponsor Ads displayed?
Sponsor ads you set up for your Event are displayed on two pages on Brella; the Event home page and the People tab.
👉On the event home page: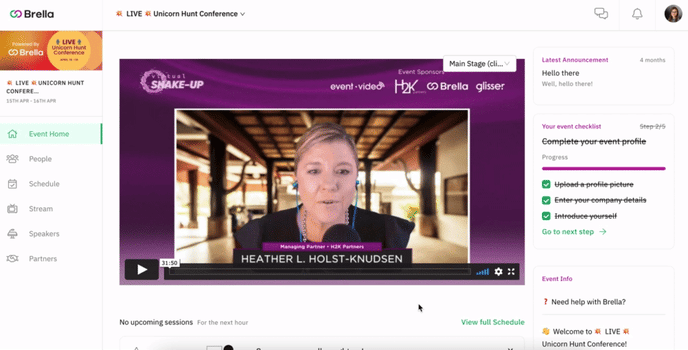 👉In the fourth place of the People tab:

3. How Many Ads Can I have in One Event?
You can have more than one advertisement active at one time. When creating an ad, you have an option to set its display share. Because there is only one advertisement spot, the display share determines how often it appears to attendees.
🔍Note: The maximum number of sponsor ads you can add within Brella is 100, so if you add 100 sponsors ads, each will get a 1% probability of being displayed.
4. What is the Display Share?
The total display share is 100%.
For example, if you have two sponsors you wish to promote, you can set each ad display share as 50%. This means that each time an attendee views the attendee list, there is an equal chance for either ad to show every time the People page is open or refreshed.
👉Refreshing the People page counts as a new view, so attendees may see different advertisements when they refresh the list there, while on the Home page, this will stay in descending order.
---
Last updated on December 2021.
Written by Stephanie Campano Valenzuela.

If you didn't find an answer to your questions, please contact the Support Team here.

👇