Learn how to add the schedule widget to the event website.
To be covered
---
Intro
Brella widget is a unique tool that you can use to display your event's agenda from Brella's Admin Panel to your website. The Brella widget will display:
The Brella Event Schedule,
A Search Box that can search day, title, speakers, tags, and locations, and lastly,
Filters that include Location and Theme Tags.
Test your widget
If you're unsure how the widget will look, this site is a great way to preview it. Copy your widget and paste it into the left column to see how it could look. Here's a short guide on what you will need to do:
👉 First, erase the text from the left bar.


Then paste the widget code, copied from the Admin Panel, paste it to the left bar and click on Run.


🌟 Congratulations, that is it! This is precisely how the Brella widget will display your event's agenda on your website!
Adding the widget to your event website
In the Schedule tab of the admin panel, click on the Brella widget tab.


Copy the script, then add it to your event website, where your schedule should be. The result would look something like this. The widget's layout can be customized further.
❗Note: Simultaneous sessions are sorted out alphabetically by the first tag of each session; if such, have the same start time.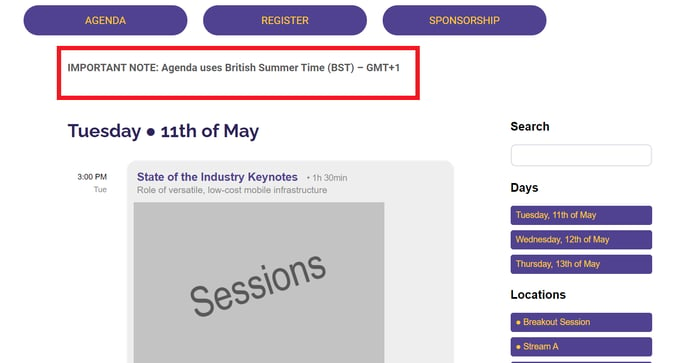 Widget hosting for embed script

If you'd like to offer your participants the option to review the agenda while watching the streams in the Brella platform or add it to a different page, now is possible by using the embed script with the free widget hosting:

https://brella-widget-host.vercel.app/
For this to work, add the join code of your event to the end of the above URL with the following format: ?joinCode=XXXX2021
👉 The whole URL should look like this:

https://brella-widget-host.vercel.app/?joinCode=XXXX2021
Adding the widget script as a sidebar
You can add the agenda embed script to the streams, session description, or virtual booths' sidebar. If you don't want the schedule filters to take precious space on the sidebar, adding &sidebar=0 to the end of the URL will display only the schedule, and the sidebar filters should disappear.
👉 The full URL should look like this:
Yellow highlight: Your event join code +
Green highlight: code text to eliminate filters bar

To add it on the schedule sidebar:
Navigate to the admin panel - Streams tab
Choose the stream in which you'd like to add the agenda embed script
Click the 'Edit side panel (Integrations)' button


Add a title; for example, Agenda
Add the widget embed script URL
Click 'Create' to add to the sidebar
Click 'Save changes' on the stream

---
Last updated - July 2022.
Written by Natasha Santiago.

If you didn't find an answer to your questions, please get in touch with the Support Team here.
👇