📖 Schedule & Widget | Stage 2
Schedule & Widget: On-demand traffic analytics
Learn how to analysis what session was the most popular through views.

Enable session traffic analytics by filling in the Stream/Video URL category with a link in the content slot. It has to be an embedded link with any content. For instance, a recorded video, an image, a pdf, presentation slides, a page, a post, a survey, etc.
👉 By enabling traffic analytics, you'll have a better understanding of:
Who viewed the session?
How long participants spent in the session
When participants visited the session
⭐ Tip! Understand your schedule session traffic analytics in detail here.
👉 You can add this link at different stages of the setup of your event:
When creating the Schedule for the first time
Before launching the event to your audience
Just before the event starts.
👉 Where to add the Stream/Video URL category?
Navigate to the Admin panel - Schedule Tab.
Select the content slot or Session by clicking on Edit.
Navigate to Details, and add the link to the right category.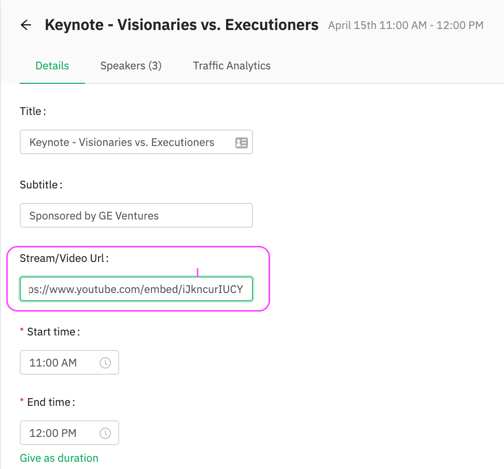 ---
Last updated - July 2022.
Written by Natasha Santiago.

If you didn't find an answer to your questions, please get in touch with the Support Team here.
👇