Attendees: Get participants' sign-in method
On the admin panel, you will see what type of sign-in method the attendee chose to join your event. These methods are Google, LinkedIn, Facebook, and Brella.
Occasionally your attendees might be having trouble with signing in to Brella. To help them access the event quicker, you can advise them on the login method they used. You can check this information on the admin panel.
To check which authentication method the attendee used: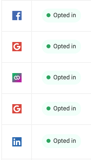 Go to the 'People' tab in the Admin panel.
Navigate to the 'Attendees' and find the correct attendee name with ei

ther scrolling or the search bar.

The sign-in method will be illustrated left from the attendee name, with the icons of

---
Last updated on March 2021.
Written by Stephanie Campano Valenzuela.

If you didn't find an answer to your questions, please contact the Support Team here.

👇