On the People page of your event, attendees will have the chance to see all participant's profiles, including those that didn't complete their profile to network through a meeting or chat.
Content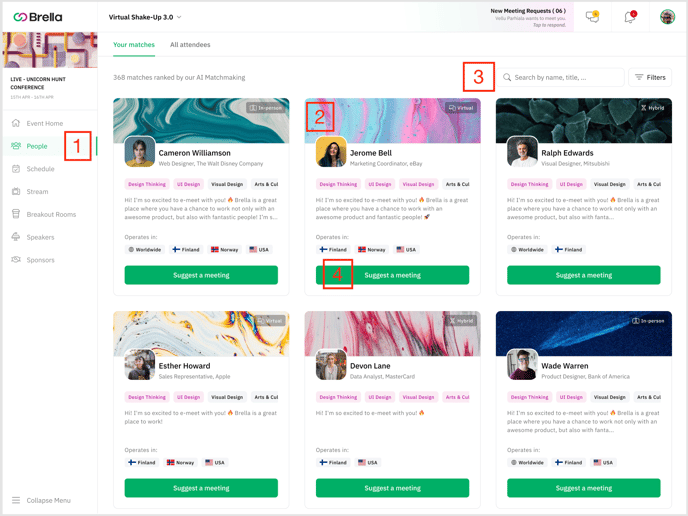 ---
1. What's the People page?
This page is where the networking magic happens and where partners and all attendees can see all participants whether they created a profile or not. Additionally, it has two sub-tabs that help search and find people based on their interests.
Your Matches - this tab displays only participants who have at least one similar interest based on the categories a participant chose during the registration process.
All attendees - this tab displays all attendees in including those who didn't enable networking yet in other words completed their profiles.
Bookmarks - this tab shows the attendee profiles that you bookmarked during the event.
2. Attendee Profiles
There are two types of profiles at Brella.
👤 1. A completed attendee profile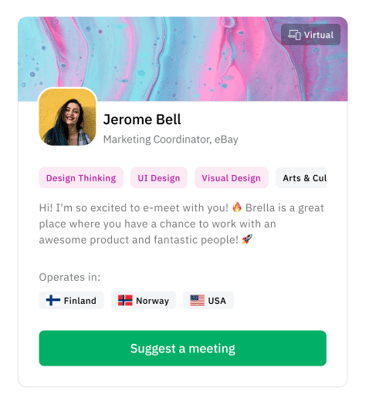 On the right, you can see an attendee profile card that has been created properly and is ready to network!
At the right top side of the profile, you can see their attendance type (Virtual, In-person, or Hybrid) in a customized cover image uploaded by the attendee. Additionally, as an attendee, you can connect with other participants through a video call or onsite at the Networking area, depending on your attendance type.
Lastly, you can see participants basic details including a short introduction and the countries they operate in. The small pink tags inside are interests that they have in common with you.
👤 2. Incomplete Attendee profile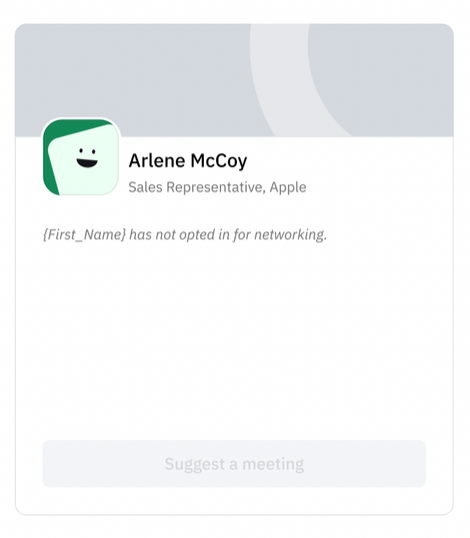 On the right, you can see an attendee profile card that hasn't been completed and is not ready for networking.
You can only see the basic information details of this attendee.
❗Attendees who haven't customized their cover photos are themed to the event's primary brand color.
How to enable attendance types?
There are three types of attendance types in Brella; virtual, in-person, and hybrid.
To enable the attendance types on each profile. Go to the Admin panel, navigate to the Details tab, under Display attendance tags toggle on/off the button once you've created Groups and populated it with participants. What are Groups?
❗Please note: Attendance tags rely on user groups to identify an attendee's mode of attendance. Therefore, ensure that your attendees and sponsors have been sorted into the correct groups before you turn this feature on.
This function comes in handy for participants' networking feature availability. For example, virtual attendees can see the video call icon and in-person attendees can only see a Table number instead.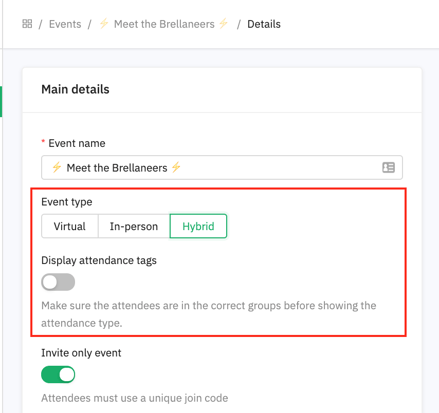 3. Search Bar & Attendee Filter
The search bar and a Filters button work to help to find specific people by searching their name, company, title, interests, introduction in the search bar.
The filters help to find relevant connections at the event. Search for a specific interest and the goal of that interest and you'll find a list of people with the interests of your choice.
Case in point, Peter is a Blockchain consultant who is looking for people that are looking for the best practices on contracts in Blockchain. So, he selects to filter people by interest (Smart Contract) and goal (Exploring or getting this service). He now can see the list of people who are looking for his services and can suggest a meeting or start a chat.
4. Start Networking ➡️ Suggest a meeting
Additionally, on this page, the networking magic happens! Participants will get to suggest a meeting to others by clicking on the green button "Suggest a meeting". After that, they will need to introduce themselves and select a fit time for both parties.
For steps on how 1:1 meetings work, please go to How 1:1 meetings work?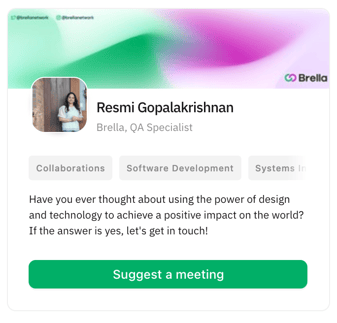 ---
Last updated on October 2021.
Written by Stephanie Campano Valenzuela.

If you didn't find an answer to your questions, please get in touch with the Support Team here.

👇