At Brella, you can view the traffic your content received per stream. To analyze your data post-event, you need to arrange your streams beforehand.
We recommend you to pay close attention to how you name and structure your stream content on the platform to arrange your data more easily.
Before the event starts
Ensure to:
Distribute your streams according to your stream software capacity,
Have a clear name for your streams &
Have a clear list of what sessions will be broadcasted in each stream for analysis.
When creating a new Stream in the admin panel, you will need to name it and add the embed sharing URL.
The stream name should be reflecting the content that will be broadcasted during the event, as it will be the reference for your audience on where to go to attend the long-awaited sessions. Some examples are Main Stage, etc.

If you are having simultaneous streams, workshops, etc., during the event, you'll have to enlist the event timeframe (Schedule) in detail to be able to compare and analyze who watched and for how long a specific session.
An example, if you have 3 simultaneous workshops, you can create a specific Stream tab for each and enable them at once when they are about to start in the admin panel.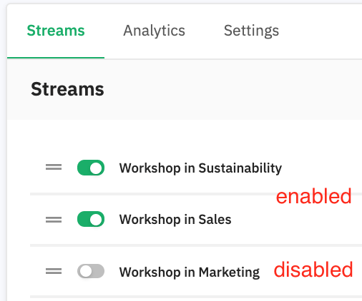 If you are having a one-day event, create one stream for the whole event and give it a name OR separate the stream into two.
🔍 The more segmented your Streams are, the easier and faster you will analyze and report your event results.
💡Tip! Ideally, the official event schedule locations reflect in Brella (next.brella.io). When exporting the traffic data file for analysis, you will need to add a new column called Stream and add the right name and align it to all the respective viewers. Otherwise, you will spend time trying to find the Workshop viewers inside the whole event Stream.
Post-event
Once the event is over, you can export the Stream traffic file.
Open Google Sheets or Mc Excel and import the first traffic data file into a sheet.
Clean the data and leave the necessary columns (categories).
Add a new column (category) and name it Streams like in the image below.
Assign a stream name to the first imported set of data. (The image below Stream 1 - the first set of data exported from the admin panel).
Then add the next imported set of data and assign the respective name. (The image below Stream 2 - the second set of data exported from the admin panel), and so on until you have all your sets of data in one data set.
You can start analyzing your data directly on Google Sheets or import this file to Google Data Sheet.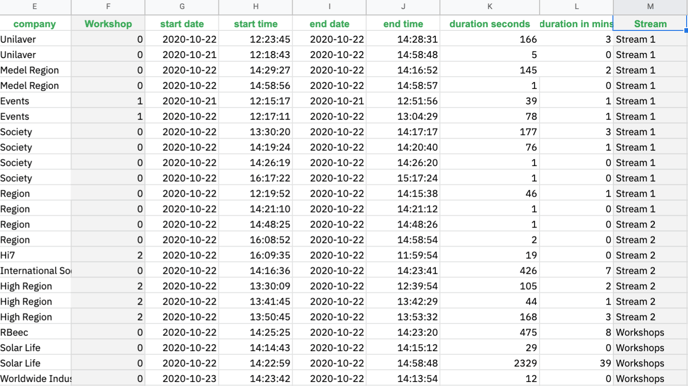 💡If you follow these instructions, your spreadsheet will be ready to be imported to any data software like Google Data Studio, or you can start analyzing directly in Google Sheets.