The chat is a space for partners and sponsors to connect with attendees at any point during the event. Representatives have access to it as soon as they are linked to the booth.
Content
---
Enable the Chat on a virtual booth:
Go to Admin Panel (manager.brella.io),
Navigate to the Sponsors tab and select the sponsor,
Select 'Edit Details' in the top right,
Select 'Enable chat,'
Your sponsor now has a live chat on the virtual booth.
Now attendees can engage and chat with sponsors and their reps, react to their comments with emojis, easily find them, and book meetings.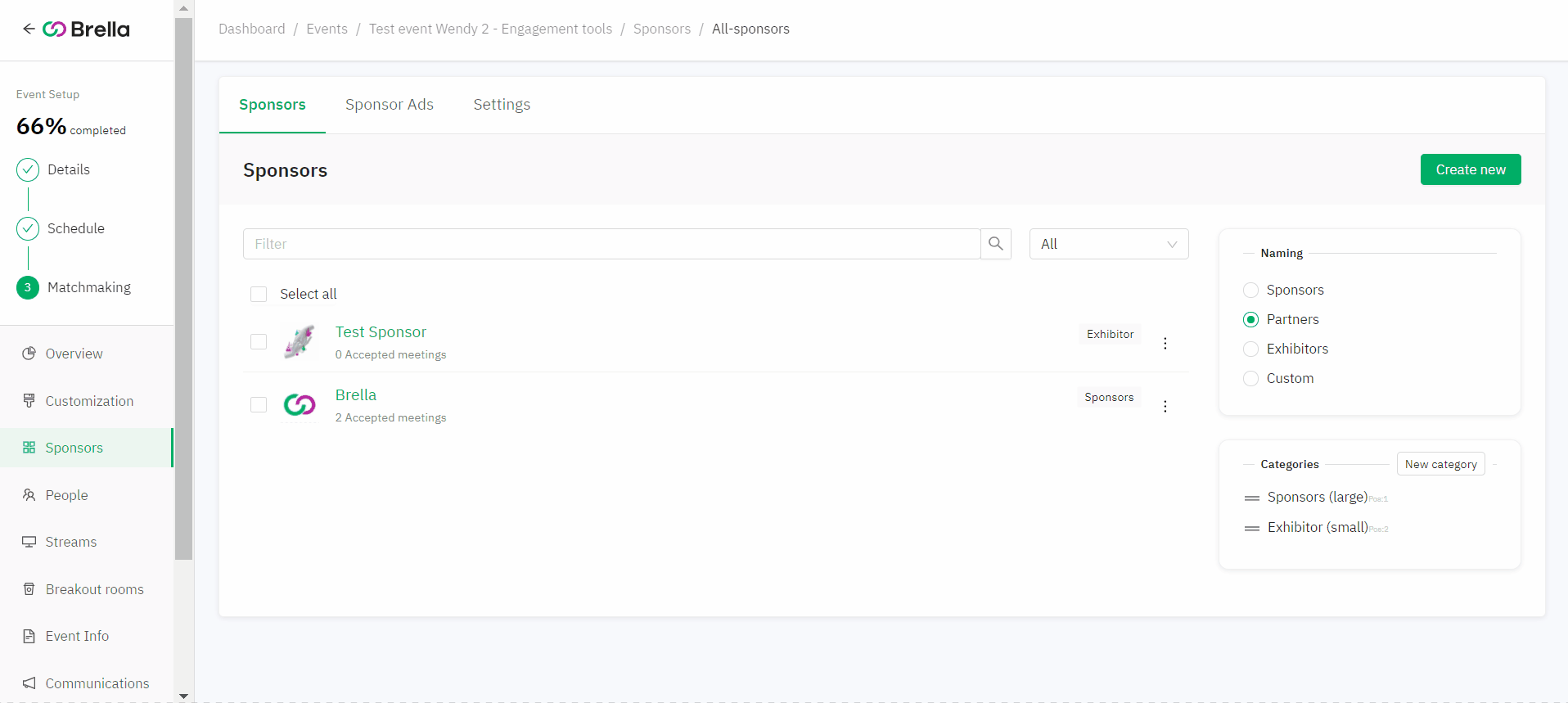 👉Note: Live chat can be enabled per sponsor card. This might give you a chance to prioritize some of your sponsors by providing more features to them.
Managing Chats + Limitations
Chats can be managed by all admins in Brella. They will be able to do it from their own Brella accounts. No need to access through the admin panel!
🌟Tip: Assign a control team to supervise that the chats are good, positive, and appropriate!
When can I enable live chats?
You can enable live chats for virtual booths at any time. For example, you can enable a live chat 1 week before the event or the same day; that is up to you.
How can I filter the messages in the chat?
You can't filter them, but you will always see the first last 100 messages created in the chat.
⚡️Note: Chat messages are not recorded or downloaded from the admin panel. But you can always see the last 100 messages.
How to delete an inappropriate message?
1. Click on the three dots under the message (...), and click delete.
2. Then, a pop-up message will show and you need to click Delete.

Is the Chat available on mobile?
Yes! You can also chat through the mobile app. You can download it from the Apple Store or Play Store.


❗ If you find attendees struggling with the chat being offline, they might need to do some changes to their security firewall software, details can be found here.
---
Last updated on August 2021.
Written by Stephanie Campano Valenzuela.

If you didn't find an answer to your questions, please contact the Support Team here.

👇